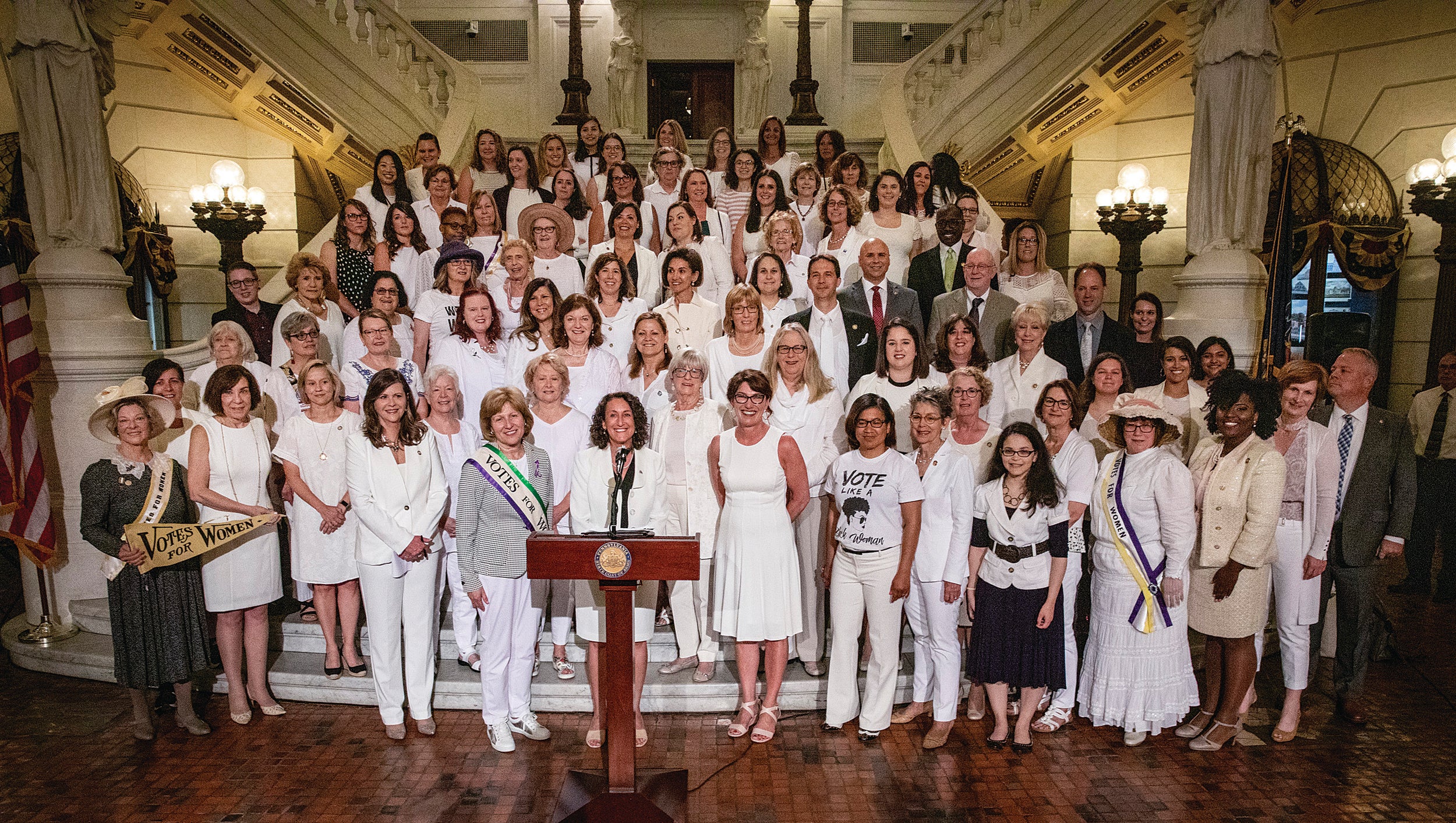 100 YEARS: State officials and members of the public dressed in suffragist white gather June 24, 2019, at the Capitol Rotunda in Harrisburg to commemorate the 100th anniversary of the Pennsylvania General Assembly's vote to ratify the 19th Amendment. Secretary of State Kathy Boockvar is at the podium. (Photo courtesy of Commonwealth Media Services)
Century of Suffrage
Celebrating 100th anniversary of women's right to vote
By Kathy Hackleman
Senior Editor/Writer
August 2020 marks 100 years since the 19th Amendment to the U.S. Constitution became law. The amendment is short and to the point: "The right of citizens of the United States to vote shall not be denied or abridged by the United States or any state on account of sex. Congress shall have power to enforce this article by appropriate legislation."
While the amendment itself was short, the path to the landmark legislation that allowed women the right to vote in every election was long and winding. Historians vary on how they date the initial embers that became the suffrage movement, with the earliest putting it in the 1830s. What is clear is that by the summer of 1848, the movement was well underway with suffragists including Elizabeth Cady Stanton and Lucretia Mott convening the first formal Women's Rights Convention in Seneca Falls, N.Y., drawing more than 300 attendees. (Today, Seneca Falls is the site of the Women's Rights National Historic Park.)
For decades, women protested, marched, lobbied, wrote, lectured and were arrested as part of this movement. In the late 1860s and early 1870s, many believed success was right around the corner, and an Indiana congressman, George W. Julian, even introduced legislation that would have allowed the right to vote to all U.S. citizens. But success remained elusive. Many of the early suffragists, including one of its most vocal proponents, Susan B. Anthony, Rochester, N.Y., co-founder with Stanton of the National Woman Suffrage Association, did not live long enough to see the movement's successful conclusion. However, Anthony was selected as the first woman to be featured on a U.S. coin, the Susan B. Anthony dollar, in 1979.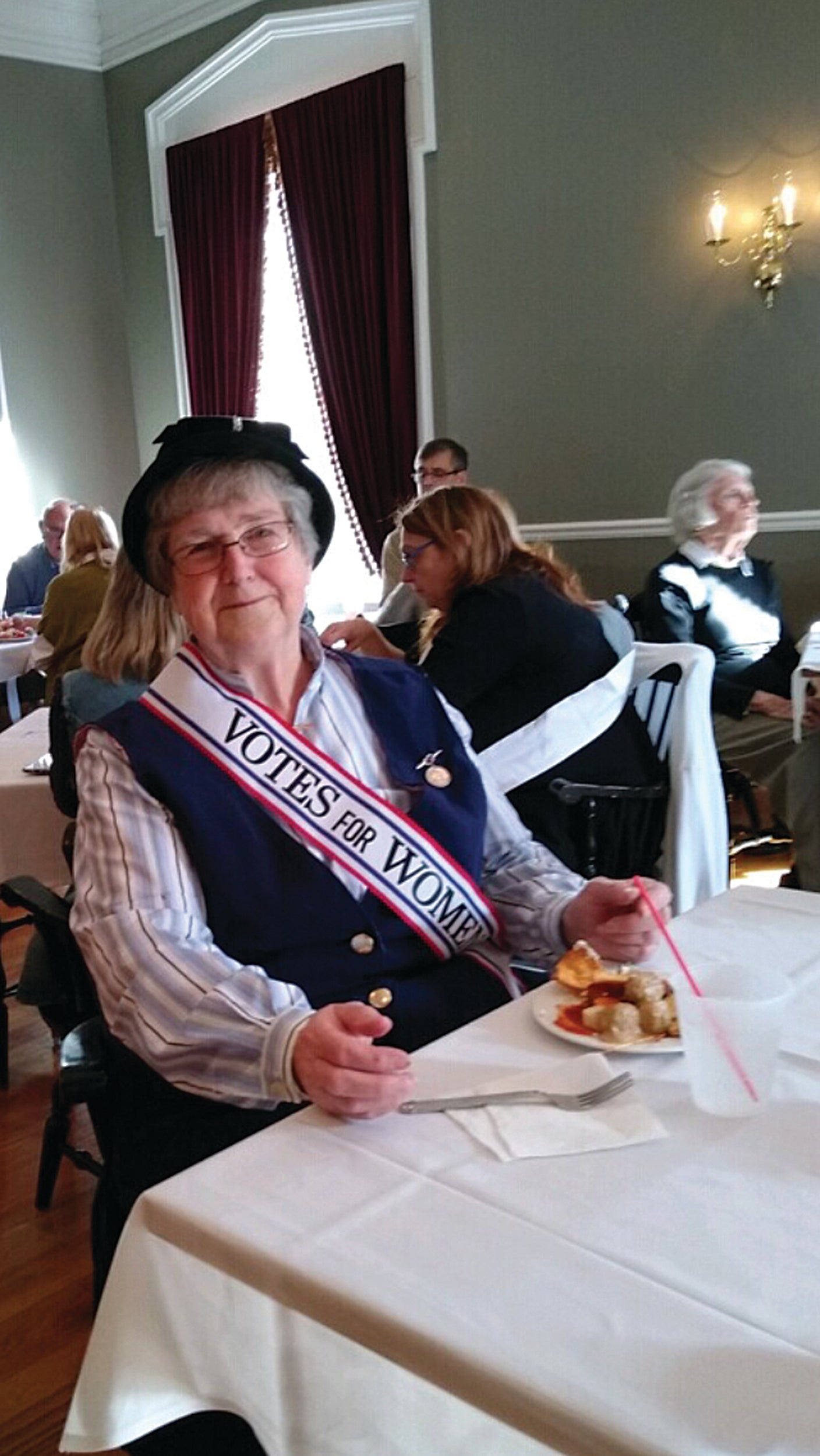 WARREN COUNTY CELEBRATES: Phyllis Wright, co-chair of the Warren County Suffrage Centennial Committee, attends one of the events celebrating the 100th anniversary of the signing of the 19th Amendment that gave women the right to vote in all elections.
Across the nation, early suffrage groups organized, determined to focus attention on women's rights, although they often also promoted an anti-slavery message. Pennsylvanian and outspoken suffragist Carrie Burnham went to the polls in an attempt to vote in 1871, but she was turned away. She fought all the way to the Pennsylvania Supreme Court, claiming all U.S. citizens had the right to vote. Not only did she lose, the state constitution was soon amended to specify only "male citizens" were allowed to vote.
Both branches of the U.S. Congress finally passed an amendment to the U.S. Constitution on June 4, 1919, allowing women the right to vote in all elections. Ratification was required by at least 36 states (three-fourths of the then 48 states) before it would become law. That effort would take until August 1920, when Tennessee became the 36th state to ratify the amendment.
Pennsylvania was the seventh state to ratify the amendment with the General Assembly giving its approval on June 24, 1919, just 20 days after congressional action was taken in Washington, D.C.
Exactly a century after that action, on June 24, 2019, state officials and members of the public gathered in the Capitol Rotunda in Harrisburg to commemorate the 100th anniversary of the General Assembly's vote. At that event, Secretary of State Kathy Boockvar noted her pride in Pennsylvania's early embrace of women's suffrage.
"We helped lead the way for the rest of the nation," she stated.
 
Also in this issue
Long wait
Today, Boockvar, who serves as the Commonwealth's chief election official, emphasizes that the significance of the 19th Amendment cannot be overstated.
"American women had to wait an extraordinarily long time to vote – until 1920, 144 years after the birth of our democracy," she says. "When our great-grandmothers set their sights on suffrage, they understood that voting is the fundamental right of a citizen in a democracy. Susan B. Anthony called it 'the pivotal right.'"
Noting that suffragists labored long and hard, enduring arrests, hunger strikes, violence, and public persecution for their efforts, Boockvar says it's important to remember and honor their sacrifices.
"It's also worth noting that the 19th Amendment not only gave women access to the polling booth, it led to today's acceptance of women in all aspects of public life, including elected and appointed service on the local, state, and national levels," she says. "Without suffrage, all that followed for women would not have been possible."
In fact, she can see herself as a suffragist if she had been born in a different century.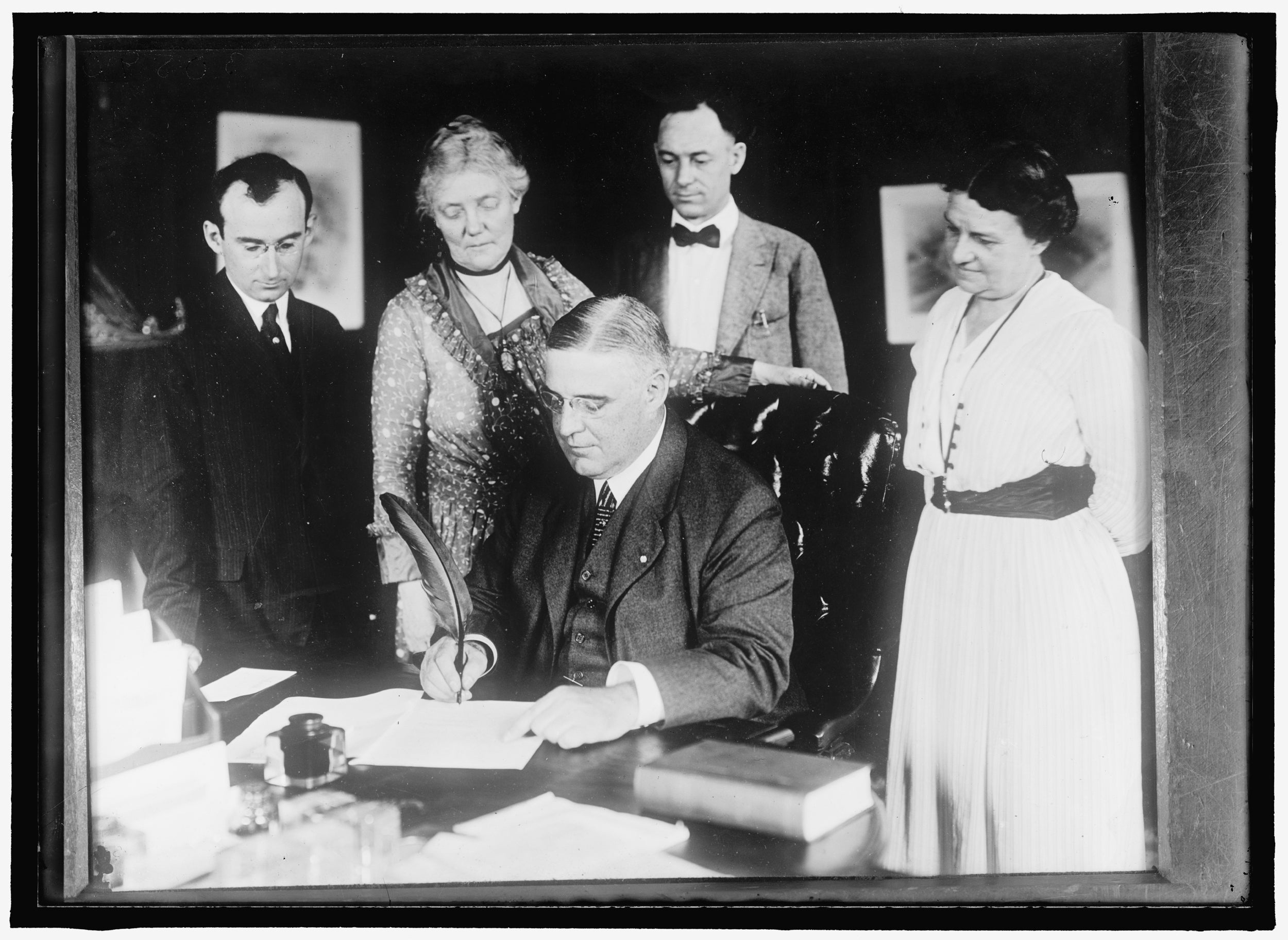 MAKING IT OFFICIAL: Pennsylvania Gov. William Cameron Sproul signs papers noting Pennsylvania's ratification of the 19th Amendment in June 1919. (Photo courtesy of the Library of Congress)
"My time as a voting rights attorney taught me the precious value of the vote," she says. "I especially admire suffragist Carrie Chapman Catt's tireless approach and unswerving commitment. She even had a prenuptial agreement with her husband guaranteeing her four months of free time each year to work exclusively for suffrage. Carrie used that time wisely. She formed the International Woman Suffrage Alliance, served as president of the National American Woman Suffrage Association and, after suffrage was finally achieved, founded the League of Women Voters."
As secretary of state and also personally, Boockvar encourages residents to register, to vote, and to seek office.
"I have been advocating, supporting, and encouraging women to run for office, be engaged in politics and civic participation, and seek leadership positions for most of the last decade and beyond," Boockvar says. "I've spoken at conferences and events, given feedback and supported women considering these options. I will always continue to do this. I have a broad perspective having been a poll worker, a civil rights and voting rights attorney, a candidate for judge and for Congress, and now, serving as secretary of state, all while also being a mother. I have learned so much from these experiences, and highly encourage all women to vote and become involved in civic affairs and consider running for office, as we need more women in leadership — not only because they are highly effective leaders, but also as role models for our daughters and granddaughters."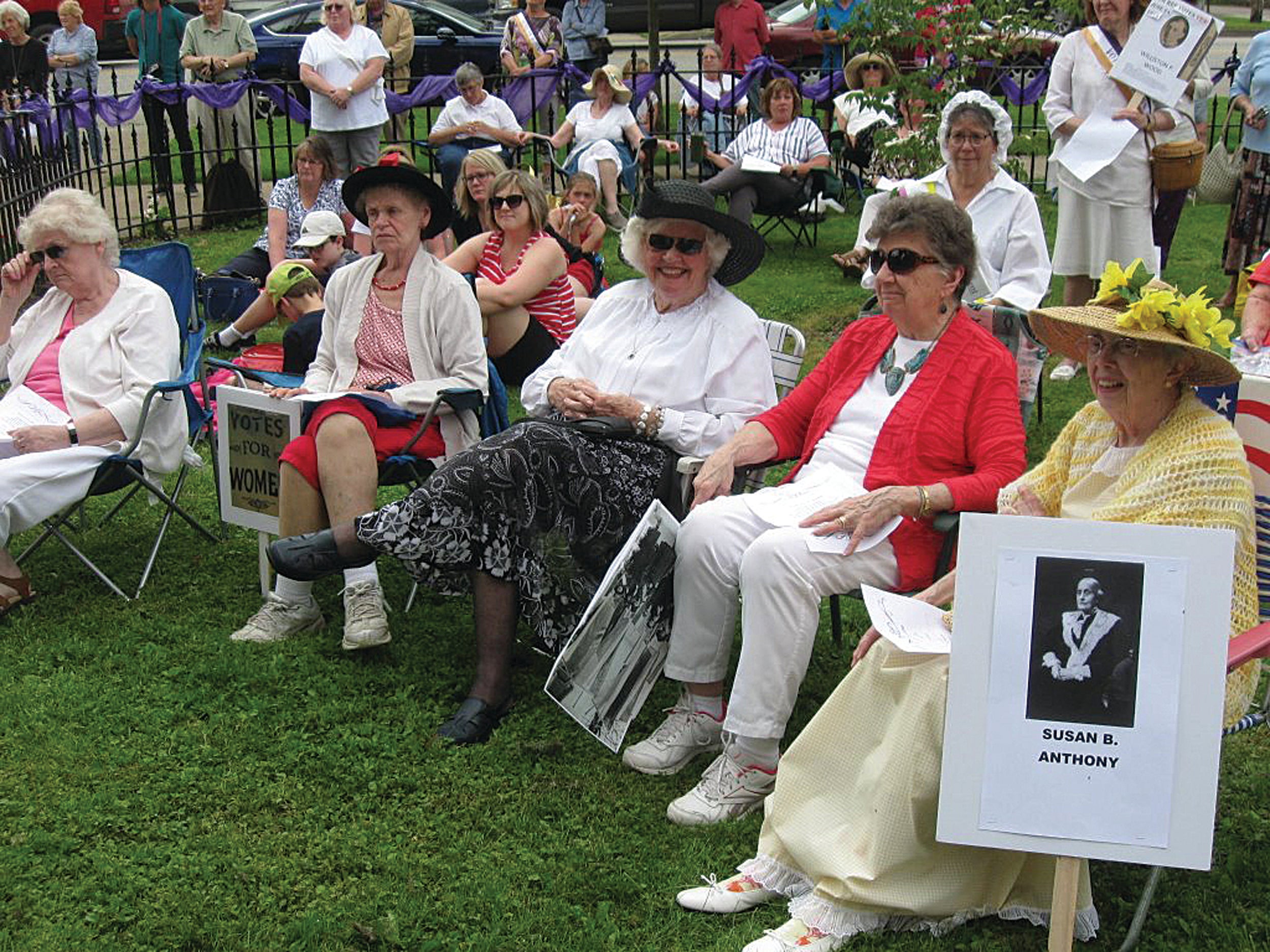 REMEMBERING THE DAY: Attendees at the June 24, 1919, event honoring Pennsylvania's ratification of the 19th Amendment enjoy activities planned by the Warren County Suffrage Centennial Committee on the Warren County Courthouse lawn.
Rural voices
State Rep. Tina Pickett (R-Bradford) is one of 55 women (out of 203 representatives) serving in the state House. She represents cooperative members in territories served by Claverack REC, Sullivan County REC and Tri-County REC and agrees on the importance of voting.
"I always speak for the importance of being involved, of voting and of being well informed on the candidates," says Pickett, who was first elected to the House in 2000 after serving several years as a county commissioner. "For those who might say, 'My vote doesn't count anyway,' I say, 'You have never been a candidate standing at a polling place on Election Day then.' As that candidate, it quickly becomes clear to you that the voter has the ultimate power with their vote. Standing at polls on Election Day always gives me a spirited appreciation of this fact."
Even considering that society was slow to come to the realization that women needed to be equal partners in voter participation and elected office, Pickett says their strong involvement and success does not surprise her.
"Women have always had a robust and energetic passion for their families and communities," she says. "We are consistently seeing more women in elected positions as family relationships and responsibilities become more balanced. As women gain more success in elected positions, we also see fundraising becoming more even and equivalent for women candidates."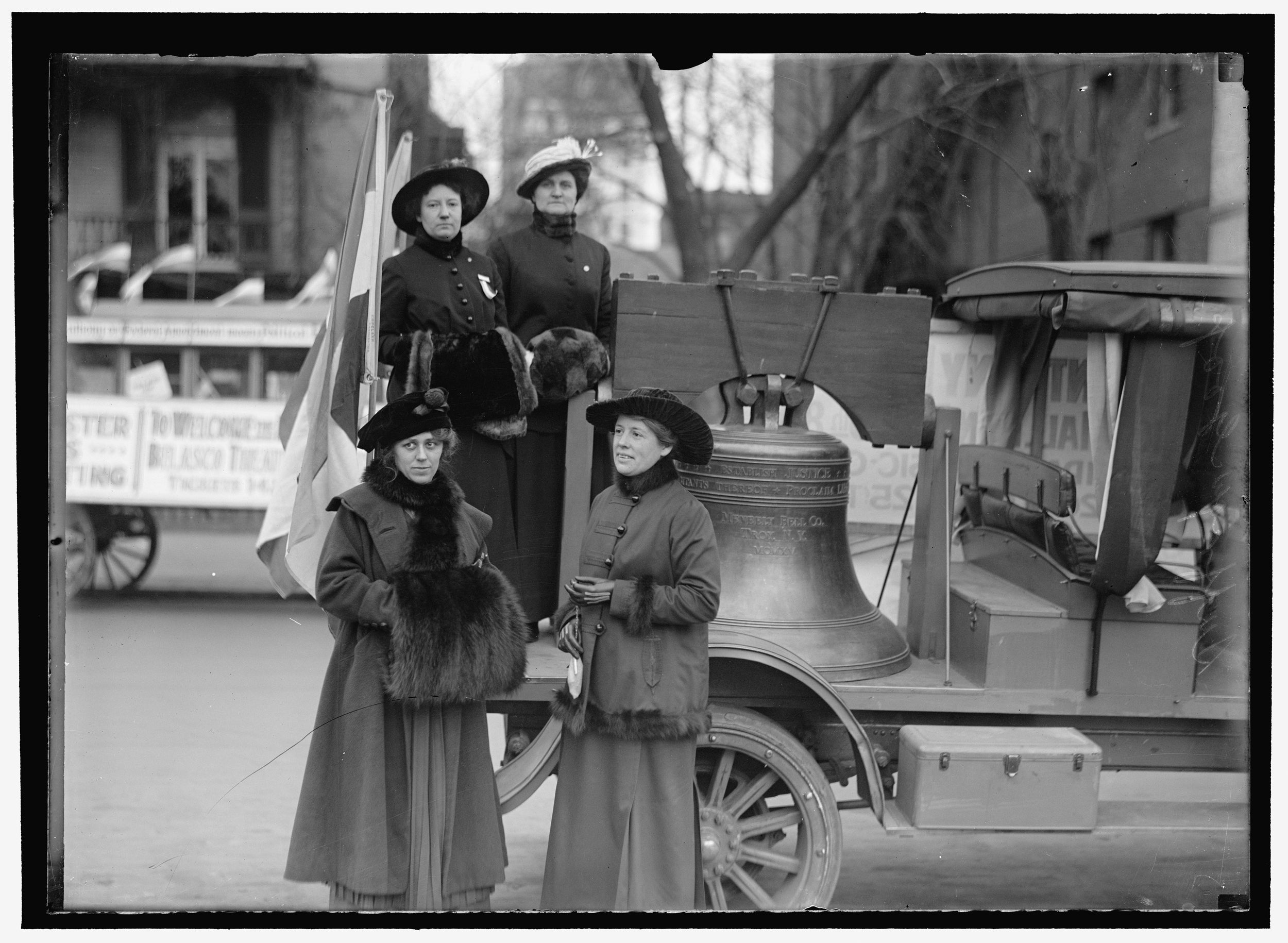 JUSTICE BELL: A replica of the Liberty Bell – known as the Justice Bell – made its way across the country on the back of a flatbed truck in the years before the passage of the 19th Amendment. It remained silent until the passage of the amendment, whereupon it was rung for the first time. (Photo courtesy of the Library of Congress)
State Rep. Pam Snyder (D-Greene) explains how important the act of voting has been in her life.
"The first election I could vote in was a presidential year, and Jimmy Carter was the Democratic candidate," she recalls. "I was so excited that I was finally going to get to vote. On Election Day, I was sick with a stomach bug, but I told my husband I was going to vote anyway. As soon as I walked into the voting place, I smelled coffee, and I wondered if I was going to make it through, but I did."
Her husband is an equally dedicated voter — she describes him leaving their farm to vote soon after a microburst had blown off half their roof.
"There were literally strangers in my house trying to help my husband and family salvage things because it was still raining, and he left to vote, so I am able to say neither of us has ever missed an election, even on the day the roof blew off our house, " she says with a laugh.
Prior to being elected to her first term in the House in 2013, Snyder served nine years as Greene County commissioner, all of them as board chair. Because she thinks women bring a different perspective, she is excited that women are seeking office in greater numbers. And nothing makes her happier, she says, than when someone says she is a great role model for their daughter.

LOBBYING FOR THE RIGHT TO VOTE: This historic photo of Pennsylvania suffragists was first published in 1917. (Photo courtesy of the Library of Congress)
Judge Maureen Skerda also is happy to pass along her passion for public service. Skerda was elected the first female judge of the 37th Judicial District (Warren and Forest counties), beginning her term in January 2006, and she became the 26th president judge in 2010. Through her judicial role and her experience as a practicing attorney, she speaks to a number of students – both male and female – who are interested in careers in the law or the judiciary.
"I have always encouraged them about their right to vote," says Skerda, a member of Warren Electric Cooperative (EC), but in the past year, she has become more aware of the history of Pennsylvania judges.
"Many of the early female judges in the Commonwealth were appointed to their first term and then would go on to be elected to full terms," Skerda points out. "I keep thinking that if our governors had not been aware of these exceptional women, they wouldn't have been on the bench."
That dynamic has changed as three of seven state Supreme Court justices are women, 11 of 14 on the Superior Court are women, and eight of 10 on the Commonwealth Court are women. That's a trend that's likely to continue, Skerda says, as she points out women have made up almost half of every graduating law school class since 1994.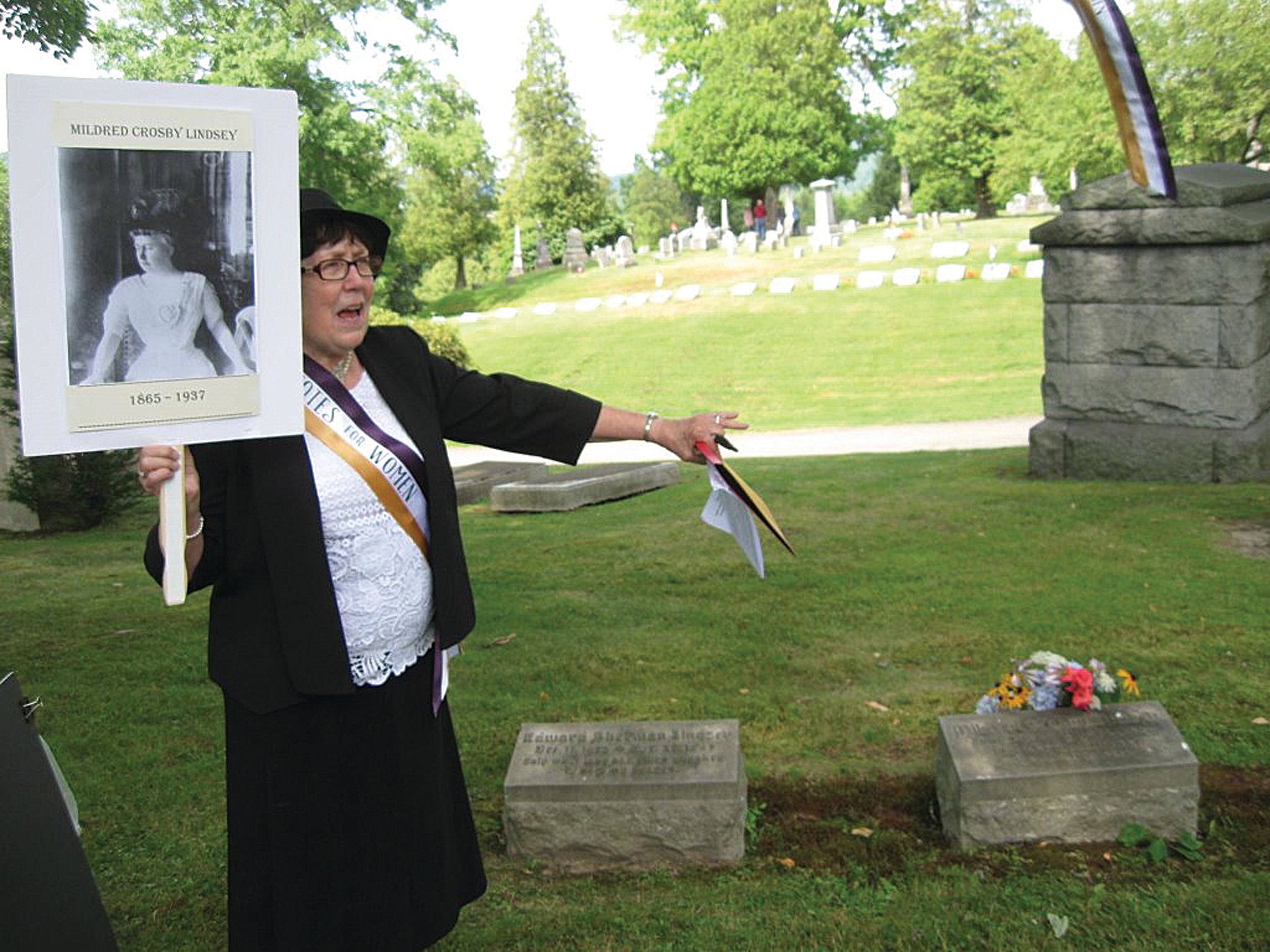 REMEMBERING THOSE WHO CAME BEFORE: Jane Dunshie, Warren County Suffrage Centennial Committee, provides information about early supporters of women's rights at the grave of Mildred Morton Crosby Lindsey during a Warren County Historical Society public cemetery walk celebrating the 100th anniversary of the ratification of the 19th Amendment.
Commemoration
Skerda is featured in a collection of "100 Notable Women of Warren County," one of a number of projects commemorating the ratification of the 19th Amendment undertaken by representatives of about 15 local groups. Events kicked off in 2019 on the 100th anniversary of the Commonwealth's vote to ratify the amendment.
Phyllis Wright, one of the organizers, reports planning for the Warren County Suffrage Centennial Celebration began in early 2019 with the first event being a public ceremony on the courthouse lawn on June 24, 2019, during which the courthouse bell rang 19 times. Related events during the past year in Warren County included a Susan B. Anthony reenactor and the "Equality of Rights: The First Woman's Right Convention" theater production. There were business window displays, dedication of a historic marker honoring Cynthia Catlin Miller, an early suffragist born in Sugar Grove, Pa., multiple displays at the Warren County Historical Society and Warren Public Library,  and developing a Warren County historical trail featuring kiosks that provide information about notable historic women.

SIGNATURES: Attendees at the June 24, 2019, celebration at the Capitol Rotunda in Harrisburg, Pa., participate in the event by signing a replica of the 19th Amendment. The General Assembly approved the amendment 20 days after it had cleared the U.S. Congress and was sent to all states for ratification. (Photo courtesy of Commonwealth Media Services)
The group also developed a geocache celebrating the "Justice Bell," a symbol of the suffrage movement (go to geocaching.com and search for Warren County Pa., Justice Bell). The Justice Bell was a replica of the Liberty Bell that suffragists hauled on a flatbed truck around Pennsylvania to encourage citizens to contact members of the General Assembly urging them to vote for women's rights. The chained clapper did not ring until the amendment passed. Other events scheduled this spring and summer were canceled due to the coronavirus.
Meanwhile, back in 2020, United EC board member Shanelle Hawk, Mayport, decided to run for election as a delegate to the 2020 National Republican Convention, but she came up short of votes in the district-wide contest.
Hawk, a former secretary and chair of the Clarion County Republican Committee, says, "Politics is the one way to get things done faster than anything else. I can't believe more people don't get involved."

HISTORIC DISPLAYS: The Warren Public Library in Warren, Pa., displays artifacts and information about the early women's rights movement during the yearlong observance of the 100th anniversary of the ratification of the 19th Amendment.
Hawk has never missed voting in an election, and she credits her family with developing her interest in politics, with both major political parties represented in her family.
"We always discussed politics and religion at our house," she says. "I ended up a very conservative person, but I have one sister and she couldn't be more liberal. For some reason, we grew up in the same household, but we are total opposites."
Community service
While both Betsy Whitsel, co-owner along with her husband of Cassville Country Store and a member of Valley REC, and Kim Phillips, office secretary at Sullivan County REC, hold elected offices (Whitsel on the Cassville Borough Council and Phillips on the Sullivan County School Board), neither views their service as "political." They just want to get things done in their communities and have found elected office is a way to do that.
Cassville is tiny — about 160 residents, and Whitsel, a 10-year council member, says the council doesn't face many contentious issues.
"We have a great community," she says. "We are just a quiet little borough. We just take care of anything that needs to be done without any fanfare. It's still an old-fashioned community and we take care of each other. If anyone needs something, they just knock on the door of a council member."
While she claims not to be too political as a council member, Whitsel is adamant that her three daughters register to vote when they are 18, and then vote in every election.
"I tell them they can't complain if they don't vote," she explains. "My grandmother was 96 when she died. I remember her talking a lot about the importance of women having the right to vote."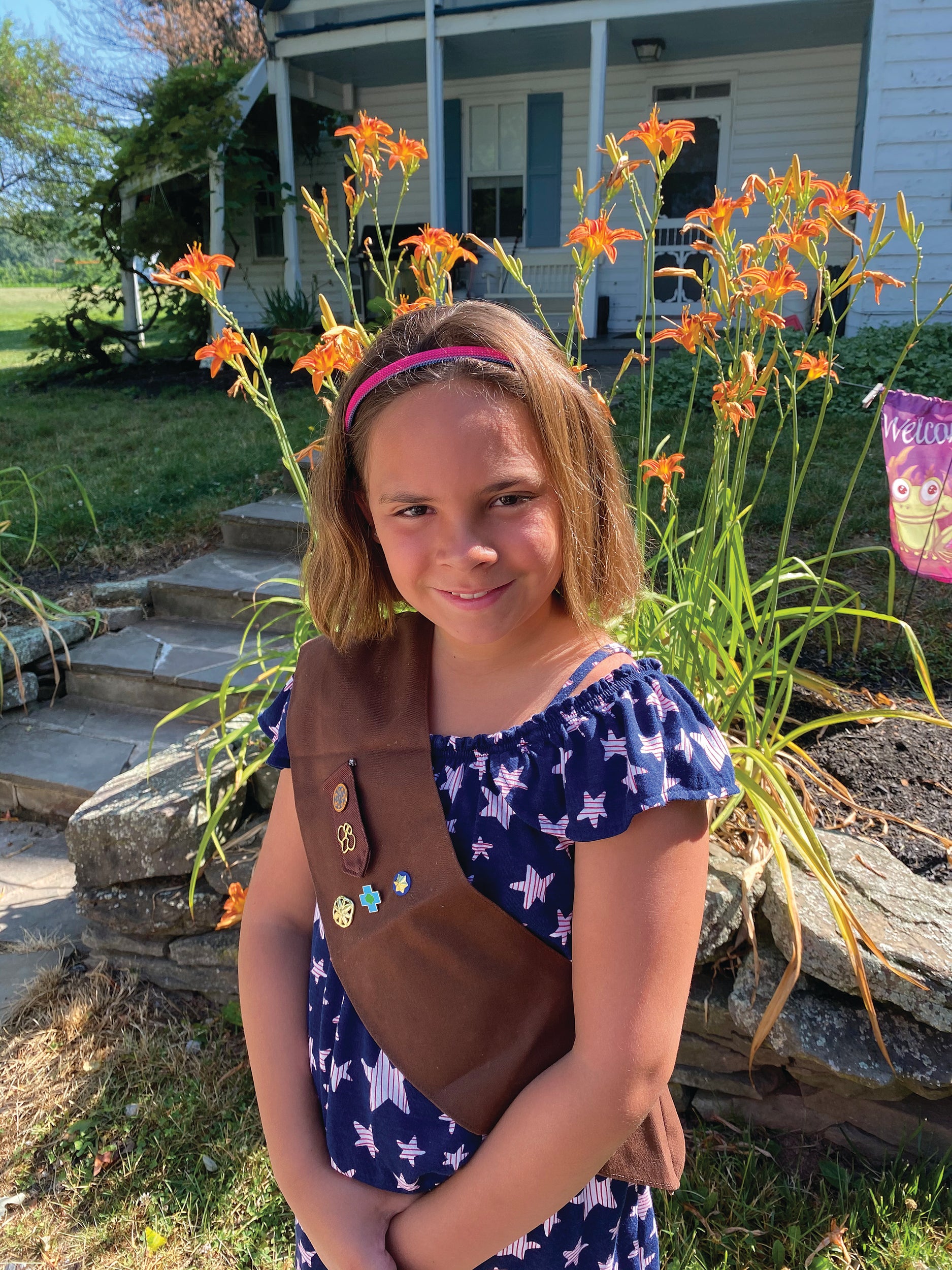 A NEW GENERATION: Jorja Noel, daughter of Adams County residents Kami and Jeremy Noel, is a member of a Brownie Troop that undertook a yearlong Girl Scout Journey entitled "A World of Girls," during which the Brownies studied women's rights and the ratification of the 19th Amendment. (Photo courtesy of Kami Noel)
Like Whitsel, Phillips views her 20 years on the school board as service, not politics, but she is outspoken about the importance of women's voices.
"We bring a vast knowledge to serving in a public position," she says. "We have been multi-tasking all of our life. We can manage a budget. We can manage people. We have a different perspective. We need to get involved, be a voice for the people and show young girls they can do anything they want to."
One of those girls absorbing lessons about the importance of women's rights is Jorja Noel, daughter of Kami Noel, communications/member relations coordinator at Adams EC, and her husband, Jeremy.
During the past year, Jorja's Brownie Troop, made up of 7- to 9-year-olds under the direction of Kevin Starner, undertook a yearlong Girl Scout Journey entitled "A World of Girls."
In doing research, Starner, who as leader has some discretion as to the direction a journey will take, discovered the Women's Rights National Historic Park in Seneca, N.Y., and partnered with it on a project where the girls could complete the Women's Rights National Historical Park Junior Ranger Program while on their Girl Scout Journey.
Future meets past
While the girls did not end their study with a visit to the national park or to Washington, D.C., due to the coronavirus, they did learn about the history of women's rights.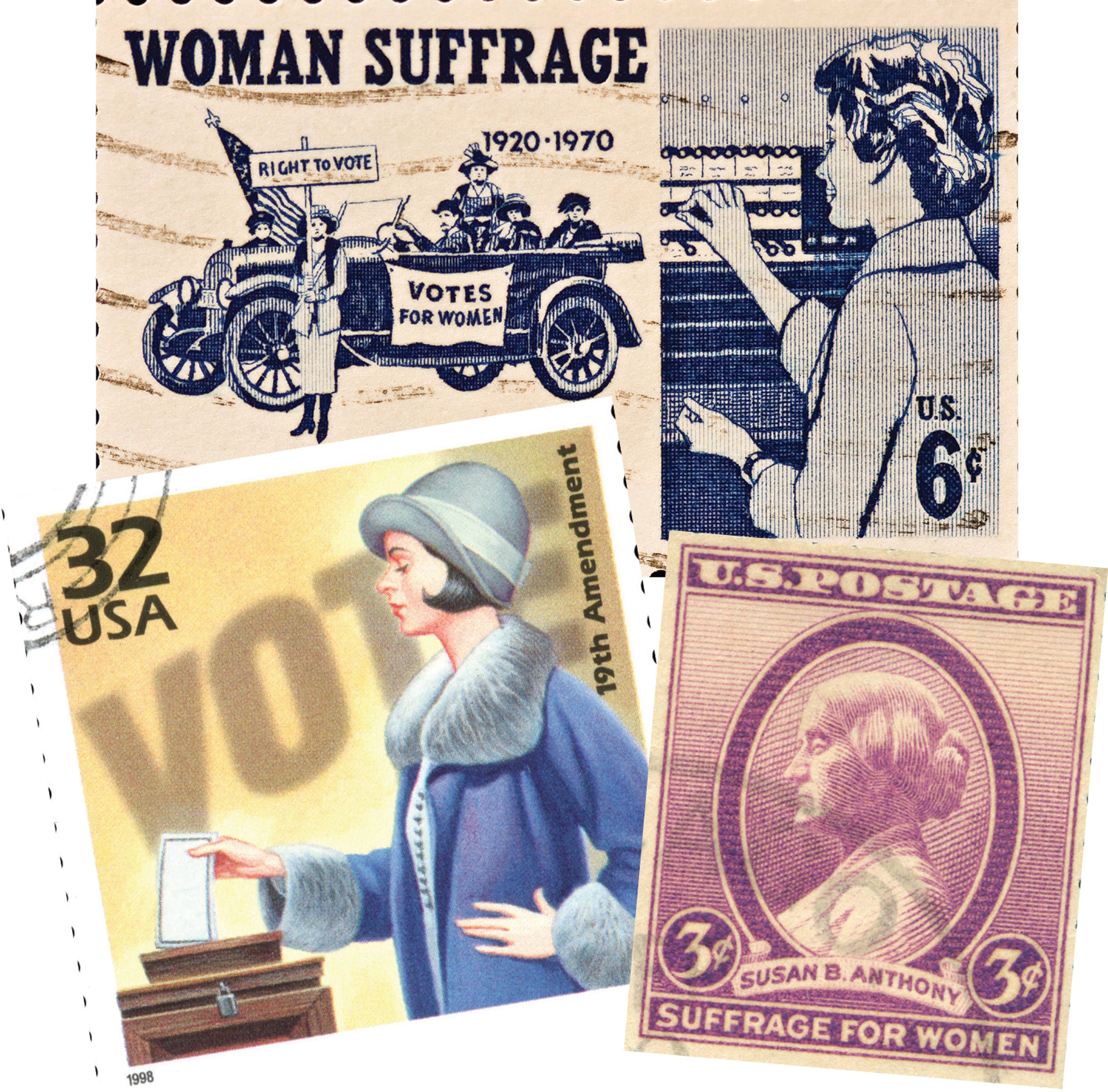 STAMP OF APPROVAL: Throughout the 100 years since the ratification of the 19th Amendment allowing women the right to vote in all elections, several U.S. Postal Service stamps have been issued in observance of the historic action.
"They were all absolutely surprised there was a time women couldn't vote," Starner relates. "It was quite eye-opening to them to learn it's only been 100 years that women were allowed to vote."
The most important part to 9-year-old Jorja, a fourth-grader at Bermudian Springs Elementary School this fall? "It doesn't matter who you are, a woman or a man, everyone should be able to vote." And why is it important that her mother be able to vote just like her father? "Because my mom has her own opinion."
As for Mom's opinion about the journey, Kami Noel says, "I think the fact that the Girl Scouts planned far enough ahead to have a program for this year that recognizes the significance of women's rights is a testament to the strength of girl-focused programs and education. It was interesting to hear the questions the girls asked about amendments and voting. These are lessons the girls will carry with them."
Additional details are available at the National Park Service website at nps.gov (search "19th Amendment" for general information and "Women's Rights National Historic Park" for park information).