BEES GALORE: In Pennsylvania, there are more than 430 different species of bees. Some live in hives, while others live underground or in the case of carpenter bees, inside wooden structures such as decks. All keep busy with their pollination duties, including this bee that lighted on a sunflower. (Photo courtesy of George Weigel)
Powerful pollinators
Bees vital to agricultural, economic health
By Michael T. Crawford
Associate Editor
Pennsylvania has long been, and continues to be, an agricultural state, and while technological and procedural advances have radically changed how (and how efficiently) crops travel from farm to table, it all still largely hinges on a few fuzzy and frightfully fragile fliers.
Nearly 75% of major food crops — including fruits, vegetables and nuts — depend on pollinators. Scientists estimate between 200,000 and 350,000 different animal species help with pollination, including some bird and marsupial species. But when people think of pollination, bees and butterflies come to mind.
"People think of bees and butterflies because they're charismatic and large," says Carolyn Mahan, Ph.D., professor of biology and environmental studies at Penn State University. "They have bright colors and they fly slowly, so they are much more visible. People learn to recognize bees, especially honeybees, from a young age."
These critters offer more than just good looks and charm. Butterflies and bees act as important indicators of environmental changes and of healthy ecosystems. Monarch butterflies specifically complete round-trip migrations, pollinating plants along their long trek as far south as Mexico and as far north as Canada. But even with this long trek, when it comes to the majority of crops around the globe, bees remain the heavy lifters.
Busy bees
"Bees collect pollen in large quantities to feed to their developing larvae," explains Christina M. Grozinger, distinguished professor of entomology at Penn State University. "This means they move a lot of pollen around between flowers and, as a result, they are really great pollinators. Other species — such as flies, butterflies, moths, or hummingbirds — are not actively collecting pollen, and so while they are important pollinators, they are usually important for specific types of flowering plants."
Honeybees contribute nearly $20 billion to the agriculture industry annually, according to the American Beekeeping Federation. In Pennsylvania alone, these pollinator-dependent crops contribute $260 million to the economy annually, according to the Center for Pollinator Research at Penn State University.
"Honeybees are especially important pollinators for agricultural crops because they can be moved easily into agricultural areas when crops need to be pollinated," notes Grozinger, who also serves as director of the Center for Pollinator Research. "One colony has thousands of bees that can help with pollination."
J. Aaron Fisher, a member of Huntingdon-based Valley Rural Electric Cooperative (REC) and general manager of W. Fisher Bee Farm in Lewistown, Pa., deploys his colonies of bees to hundreds of acres across farms in both Pennsylvania and New York. Farmers looking to ensure thorough pollination typically pay for two colonies per acre, he says.
"It's definitely profitable as long as you have quality bees and good workers," says Fisher, a third-generation beekeeper. "It's not lucrative enough to get rich overnight by any means, but it can make for a comfortable living with a lot of hard work involved."
Also in this issue
Economic powerhouse
In addition to their service as pollinators, honeybees also contribute their own product line to the economy — honey. Used commercially for food, skin creams, anti-aging lotions and medical wound dressings, over 160 million pounds of honey are produced each year in the U.S. alone. According to the U.S. Department of Agriculture, the 2013 honey crop (the latest date for which verified numbers are available) was valued at over $317 million.
"Last year, even with the excess rain, the honey crop was very high across the board in 2019," notes Fisher, who also has a branch of operations in Florida. "It had been very stagnant for a few years — crops were significantly lower than expected in 2017 and 2018 — but 2019 got enough rain and sun balanced out just about everywhere that bees were able to make honey."
Of the approximately 4,000 bee species in North America, honeybees aren't natives. Apis mellifera — the scientific name for the famous European honeybee — was imported somewhere in the early 1600s, and exists in the United States largely as a domesticated farm animal. According to Fisher, that means the hours as a beekeeper are the same as any farmer.
"I work a lot of nights, weekends, holidays," explains Fisher. "It's agriculture — whenever the needs are there, you have to be there to support your animals and get your bees delivered to crops in time for bloom."
While Fisher's bee colonies have stayed strong over the years, there have been hiccups with losses. Moving bees for pollinator services puts them under significant stress, which can increase mortality rates. Fortunately, he's been able to consistently raise enough bees that he can sell extra to other beekeepers. Doubly fortunate, in fact, as surveys show our agricultural air support as a whole has been suffering.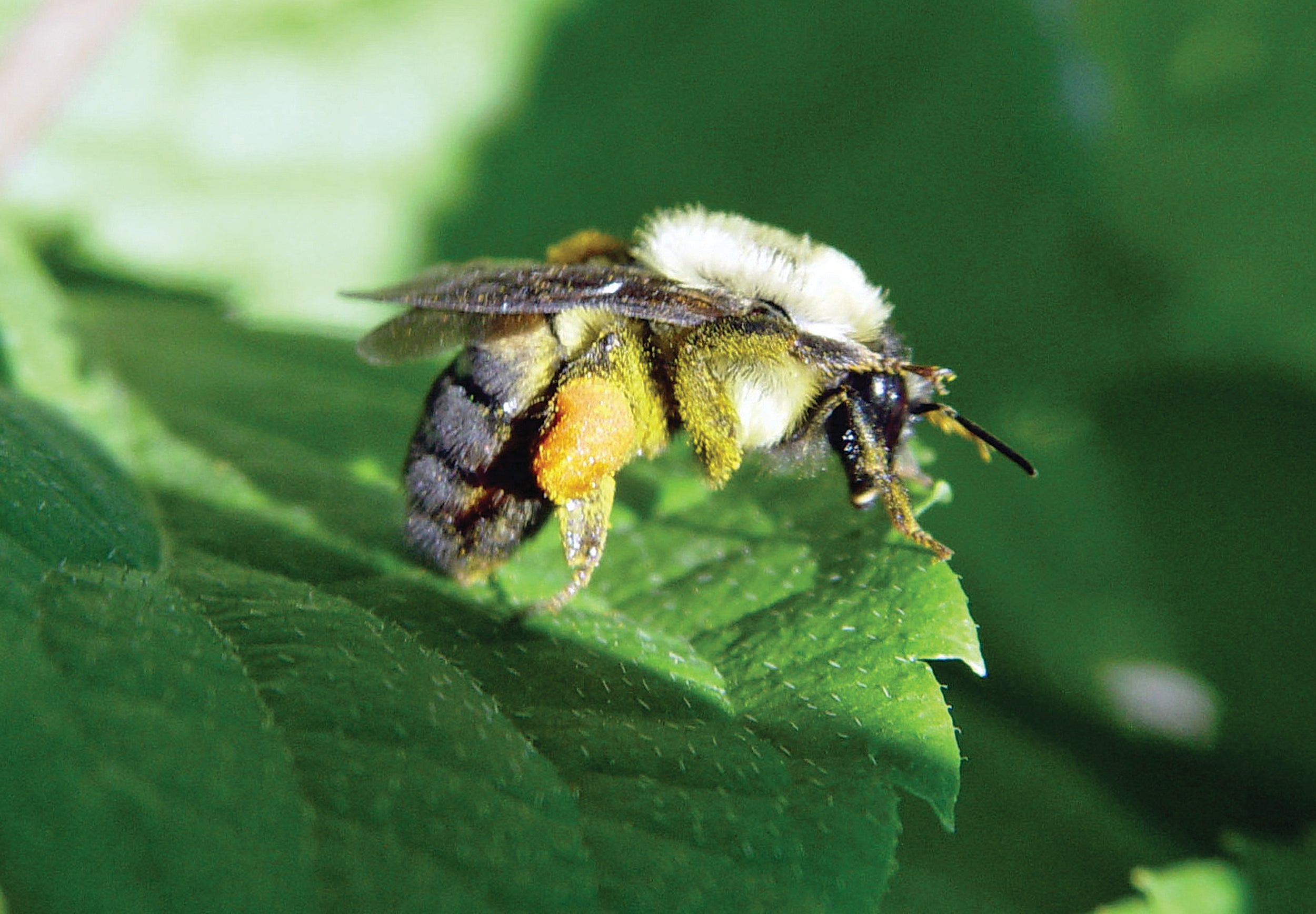 POLLEN-COLLECTOR: A close look reveals how pollen is transferred by attaching itself on a bee's body. The pollen is then spread as the bee makes its circuit to other plants. (Photo courtesy of George Weigel)
Colony decline
In the United States, beekeepers have lost approximately 30% of their colonies every year since 2006, according to the Bee Informed Partnership, a national collaboration of research labs and universities in agricultural science. In 2019, Pennsylvania beekeepers lost more than 43% of their colonies, and about 40% of colonies managed by Pennsylvania beekeepers die every winter.
"The main causes for bee decline are loss of flowering plant diversity and abundance — since bees depend entirely on flowering plants for their food — loss of nesting habitat for wild bees, exposure to pesticides, pathogens and parasites, and climate change," Grozinger explains. "Changes in weather patterns can affect both the flowering plants that bees depend upon and make it more difficult for bees to overwinter or forage."
A lack of diverse plants means that bees, like any creature, can become malnourished, making them more susceptible to the myriad of dangers to their health that they already face.
"Bees need a spectrum of food, just like we do," Fisher says. "They don't need pollen from just one plant. Each plant's pollen has a different (nutritional value) to it, and they need a little bit of everything to get a well-balanced diet."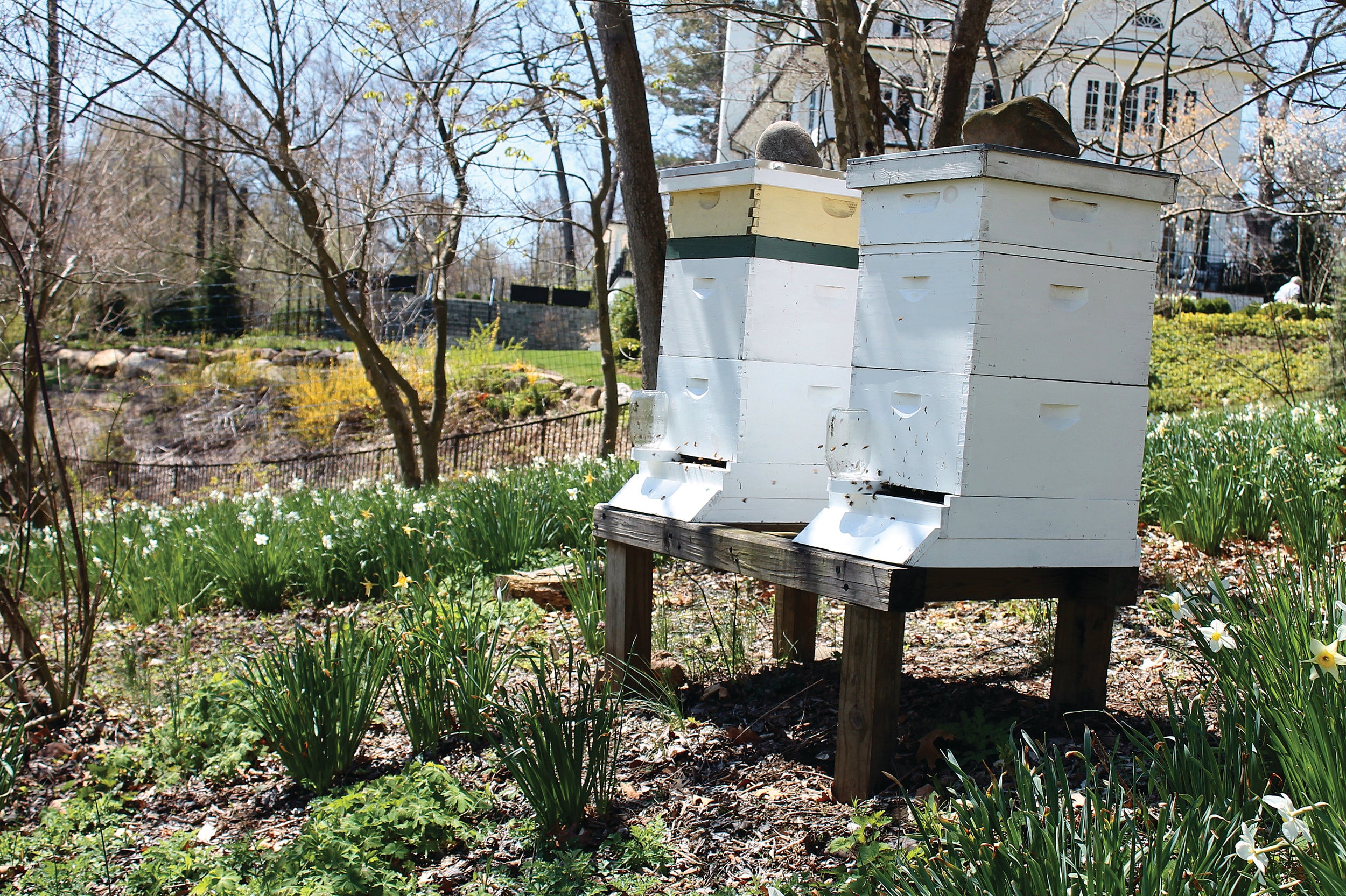 HOME SWEET HOME: Structures such as these are typically used to house bees in commercial settings. (Photo courtesy of George Weigel)
In Pennsylvania, the majority of crops are pollinated by more than 430 different species of the honeybee's wild cousins. Unlike their European cousins, most wild bees don't make honey or even live in hives — they're solitary critters that make their homes in the ground (or your deck, in the case of carpenter bees). That also makes their populations much more difficult to track.
"It is hard to get data on wild bee species, since it requires long-term monitoring across large regions and many years," Grozinger admits. "However, from the data that we have, it is clear that there are declines in some species. For example, about half of the wild bumblebee species that have been studied in the U.S. are showing declines, and some species are now considered endangered. There is also evidence for long-term declines in butterfly populations — approximately 80% over the last 20 years."
Monarch butterflies may also find themselves on the endangered species list due to the eradication of milkweed, the perennial flowering plant where monarchs lay eggs, feed as caterpillars, and transform into adult butterflies. Milkweed is toxic and often considered a nuisance plant.
"If wild species decline, the growers will become more dependent on managed bees, such as honeybees, for their pollination services," Grozinger continues. "This means they need to pay beekeepers to bring their colonies to their farms for pollination. In several parts of the country, growers already need to do this. In Pennsylvania, most farms have enough natural habitat and wild bees that growers do not need to rent bees for pollination services. If growers need to pay for pollination, this could mean that prices for these crops could increase."
Cooperative support
Fortunately, wild bees and butterflies have help from unlikely allies — electric cooperatives. Right-of-way corridors must be regularly maintained to ensure safe, reliable electricity to rural Pennsylvanians, and that maintenance isn't limited to trimming tree branches near power lines.
"Pollinator plots are perfect to put into a utility right-of-way because you don't want any woody debris and you have a field with low-lying plants," explains Alicia Palmer, natural resource specialist for the Environmental Stewardship Program at Raystown Lake, home to the Raystown Hydroelectric Project that provides 100% of its clean energy to cooperatives in Pennsylvania and New Jersey. "You're not only establishing quality habitat for pollinators, but you're helping other wildlife species as well."

EASY TO SPOT: Monarch butterflies are among the most recognized and showiest of the Pennsylvania pollinators that are responsible for production of agricultural crops and flowers across the Commonwealth. Monarch butterflies are found from Mexico to Canada. (Photo courtesy of George Weigel)
Bob McDermott, forestry supervisor for DuBois-based United Electric Cooperative (EC), says the cooperative takes a targeted approach — identifying and removing non-native plant species so native species can thrive.
"We use a combination of hand cutting, mowing and very selective herbicide on species that could hinder our personnel's ability to access or climb poles," McDermott explains.
This isn't a happy accident — electric cooperatives, built on the principle of concern for community, consciously try to preserve and promote pollinators species within their rights-of-way. In April, the U.S. Fish and Wildlife Service (USFWS) finalized a voluntary agreement for conservation action on energy and transportation lands. The agreement — the final Candidate Conservation Agreement with Assurances — calls for participants to create and maintain monarch habitat in rights-of-way and other properties.
While McDermott says United EC isn't likely to participate — they don't have the size of land the USFWS outlines — the cooperative has taken its own steps to keep pollinators prosperous.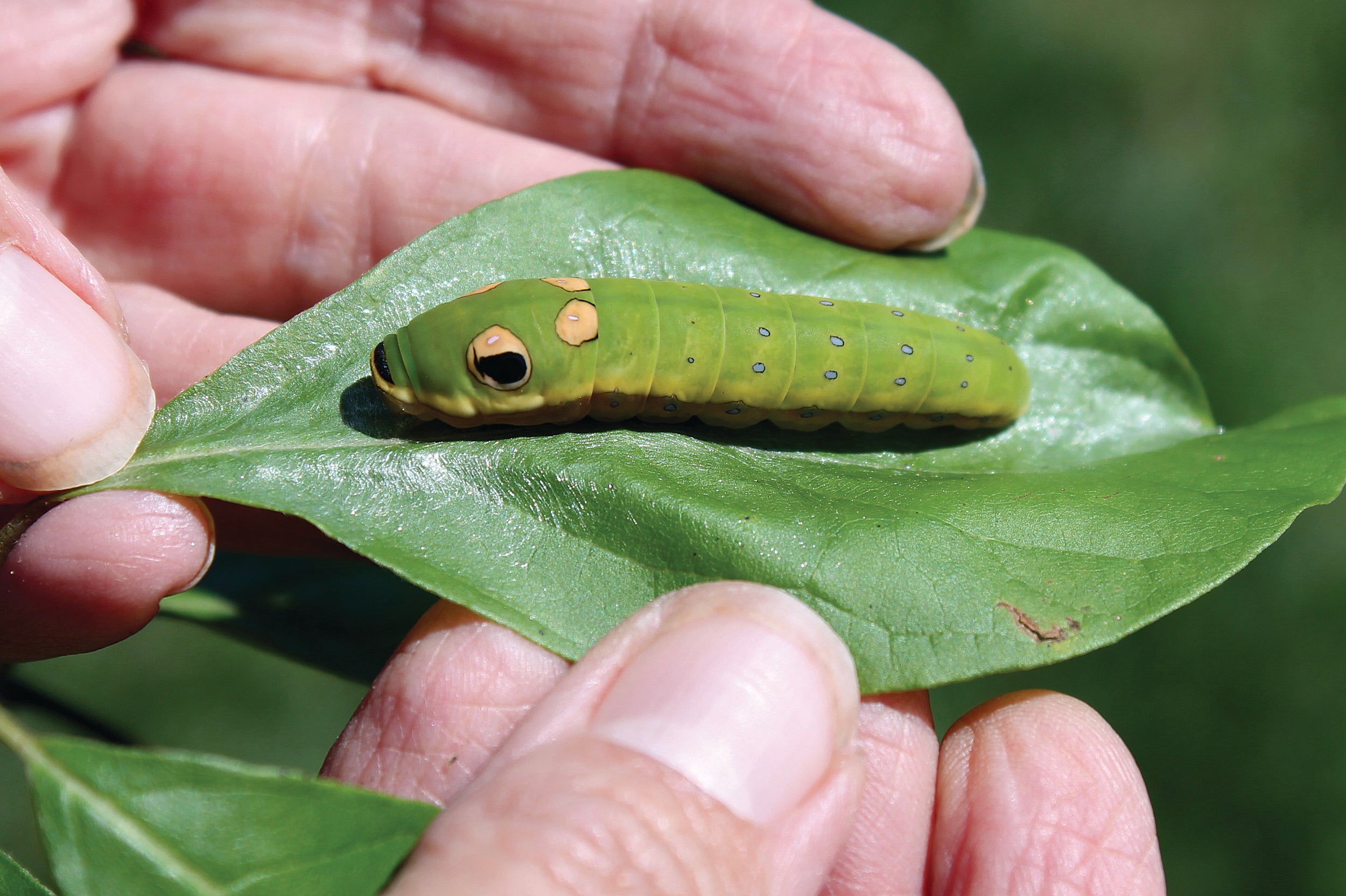 KEEP AN EYE OUT: The larval stage of the spicebush swallowtail butterfly has what looks like big eyes. This caterpillar will eventually turn into a full-grown butterfly that will help pollinate several types of trees and shrubs. (Photo courtesy of George Weigel)
"We are aware of how precious pollinators are and have hand-removed competitive species," McDermott explains. "Milkweed, for example, is a critical food source for monarch butterflies, so we take extreme caution not to disturb it — no herbicides, removing competitive species — and enhance it with artificial seeding. … We try to time our right-of-way maintenance with the lowest bee activity. … By doing this on our own, we're doing our part by being good stewards of the environment while keeping our rights-of-way safe and accessible."
According to research by Penn State University on transmission line ecology — funded in part by Asplundh Tree Expert, LLC, a right-of-way contractor used by cooperatives throughout Pennsylvania and a Premier-level associate member of the Pennsylvania Rural Electric Association — the cooperative's approach has helped to foster robust natural habitats for bees and butterflies. It also makes the job less time consuming and less expensive in the long run, ultimately decreasing the amount of herbicide needed.
"Selective use of herbicides we found is actually more effective at promoting stable, compatible habitats than strict hand-cutting," Mahan explains. "It may take a little extra time in the beginning, as well as some expertise to identify the different types of wood — dogwood is a compatible species, for example, while redwood is not."
Working together
According to the Center for Pollinator Research, pollinators are responsible for seed and fruit production from nearly 90% of flowering plant species, which in turn supports local animal populations.
"In natural areas, pollinators are really the core of the food web," Grozinger says. "We have a lot of natural and wild habitat that can support bees. So we are in a very good position to support — and enjoy — our bee species."
At Raystown Lake in Huntingdon County, Valley REC has done just that, devoting a section of its right-of-way for native flowers to support honeybee populations. Working in partnership with the U.S. Army Corps of Engineers, Valley REC cleared three acres of land near the Seven Points Recreation Area and donated seeds for the Corps to plant.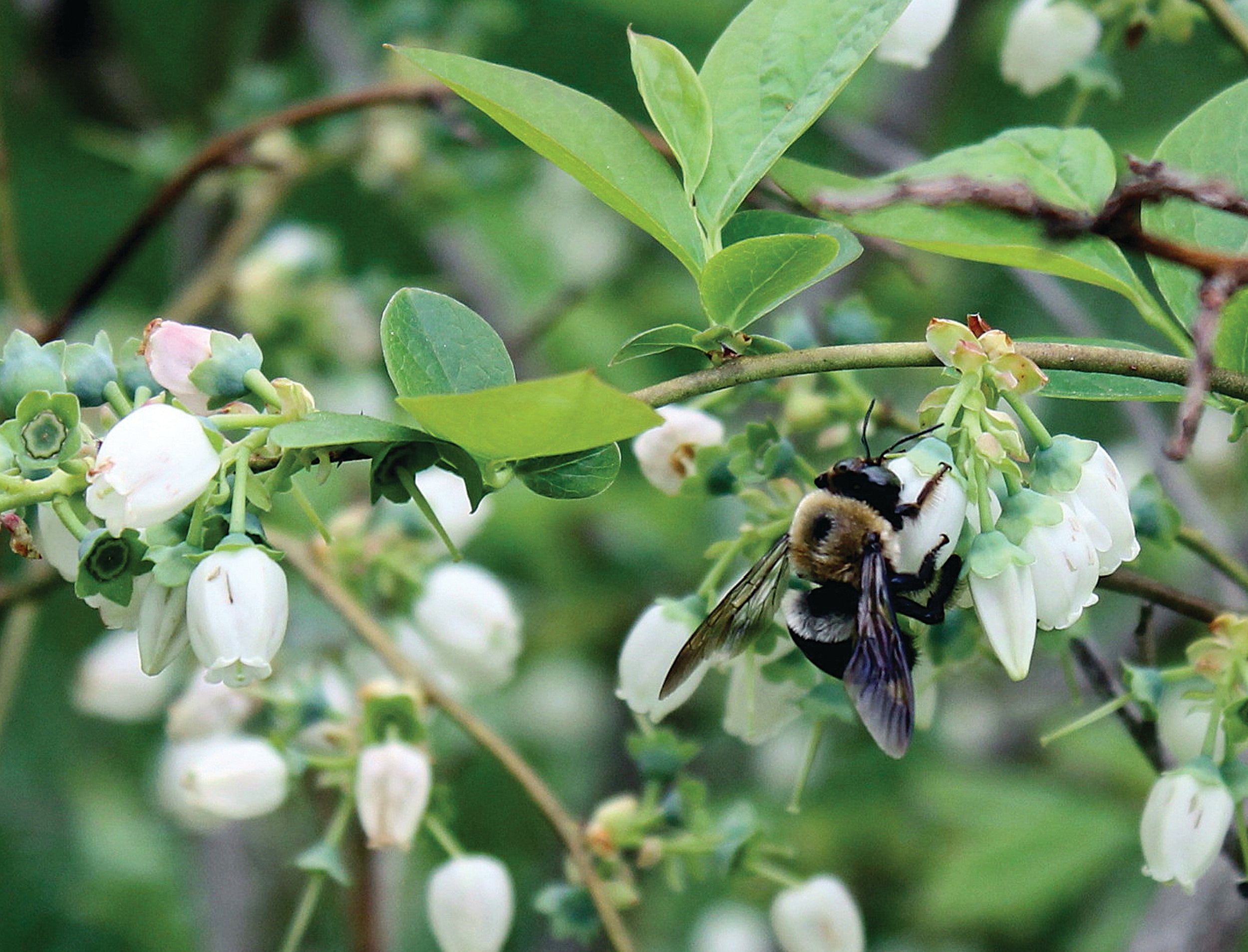 HARD AT WORK: While pollinators are often observed on flowers, spreading pollen to ensure yard and roadside beauty, they are also essential for the growth of various crops. Here, a bee lands on a blueberry blossom. (Photo courtesy of George Weigel)
"You're starting to see more of this pop up all across the country," Palmer says. "I think the push for pollinators and important species has been very good. National Pollinator Week (June 22-28) draws attention to the importance of pollinators, and a lot of different federal and state agencies and private landowners are starting to improve their wildlife management techniques. Any way we can help out nature in any sort of way is beneficial for nature and us."
Even a small corner of a homeowner's lawn can be made into wild pollinator habitat with some time and effort. And lots of patience.
"We have a culture of mowing, especially in public spaces, because we want it to look nice," Mahan explains. "Don't mow — get a native plant field guide, watch what comes naturally and remove non-native plants. People can plant things, but they should focus on native species — most garden centers can help with this — and be patient. It can take a few years."
If Pennsylvanians can dig down deep to help pollinator populations bounce back, these little fliers just may save us in return.