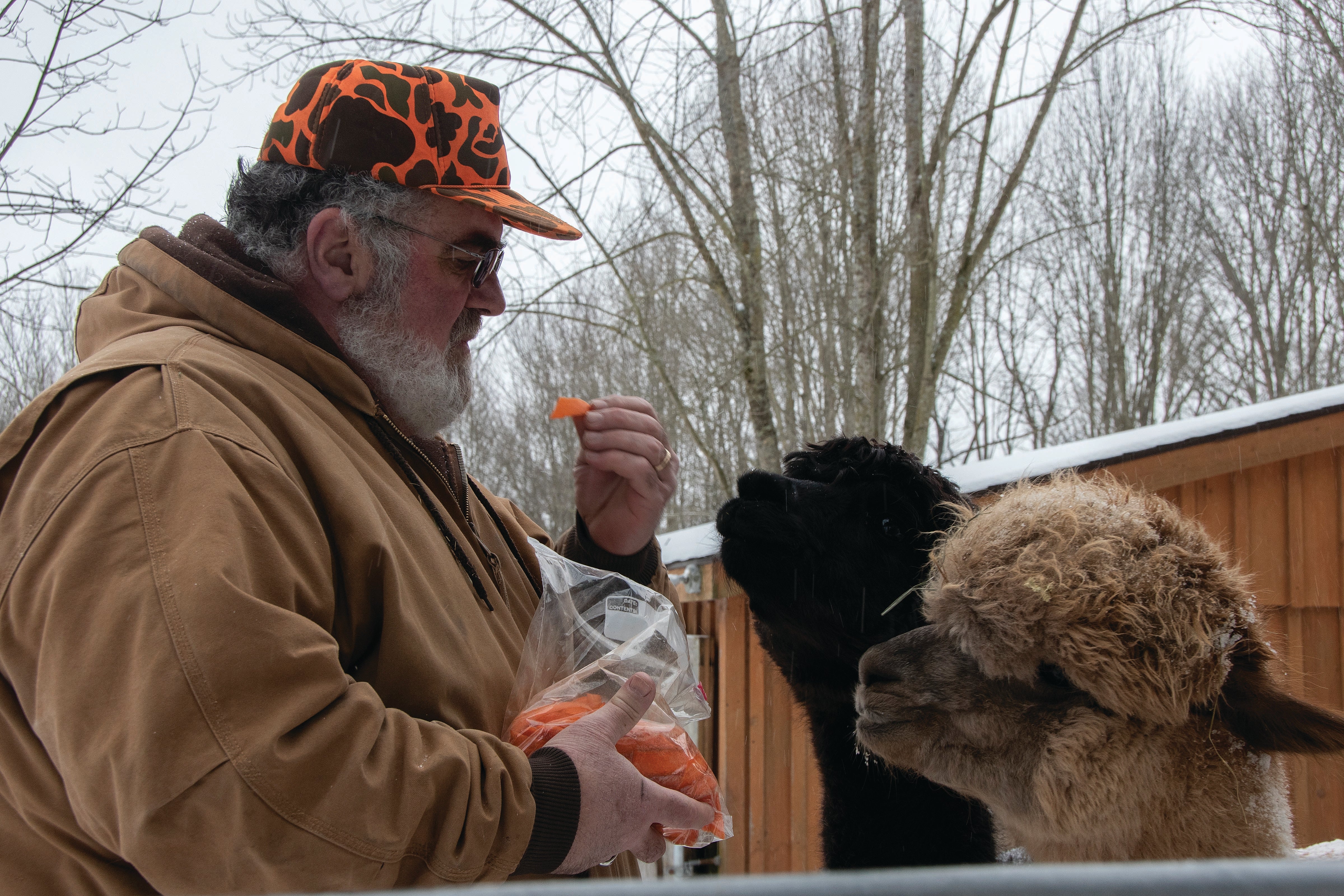 Animal farms
Rural Pennsylvania home to unique wildlife parks
By Michael T. Crawford
Associate Editor
Encounters with wild animals are often brief, perhaps a momentary staring contest followed by one or more participants darting off in the opposite direction. Some binoculars could help in getting more than a fleeting glance, but to get up close and personal with many animals, a trip to a zoo — petting or otherwise — is usually the best option. But you don't have to make your way to a big city to interact with wildlife; small animal parks may be as close as your neighbor's backyard.
Once upon a time, Ray DiBono, a member of Forksville-based Sullivan County Rural Electric Cooperative, had never even heard of alpacas — fluffy, mountain-dwelling cousins to camels — until his wife, Debora, had a chance encounter with them hiking along the Appalachian Trail while attending the police academy.
"'What the (heck) is an alpaca?'" DiBono recalls exclaiming when his wife returned from her trip. "She (Debora) did her research … and she took me to the show that they have in April in Harrisburg. I walked in and there were like 2,000 alpacas from 400 farms. I was like, 'Whoa! There's a whole other world I know nothing about.'"
Now with a herd of 12 huacaya alpacas, guarded by three Italian sheep dogs with paws bigger than their owners' hands, the DiBonos run Artisan Alpacas LLC — part petting zoo, part store — from their home in Dushore, Pa.
"They all have distinct personalities," DiBono says of his alpacas. "Mine are used to people because of what we do here. When people come up, they all come … running over to the gate and people feed them carrots and pet them."
New home
To see the alpacas at their happiest (and fluffiest), colder days are better. As natives of the Andes Mountains, alpacas do not handle heat well. After the first or second week of May, the shears come out, the coats come off, and the four-legged denizens of Artisan Alpacas seek shade, as well as an occasional lap in the pool.
"In the summertime, we usually have six or seven fans set up," DiBono says. "If it gets above 90 degrees, I'll come down and spray them with the hose. They all line up, jump and play. I'll put down a kiddie pool for them, and they jump and play in that."
Despite the heat management, DiBono says taking care of a herd of alpacas is no sweat.
"Alpacas take less maintenance than a dog," DiBono says. "I'll come down twice a day … and make sure they have fresh hay and fresh water. I give them a sweet grain supplement every other night. Shear them once a year … and keep an eye on their toenails."
Alpaca farmers must also take careful precautions to protect their herd from meningeal worms, a deadly parasite transmitted by white-tailed deer, by ensuring they receive a monthly shot.
Artisan Alpacas is open Thursday through Saturday between May and December from 11 a.m. to 3 p.m. Visitors can also schedule private visits outside those times and days by calling 570-928-8429 or sending a message to their Facebook page.
Travel I-80 West for about three hours to Oliveburg, Pa., and you can find another couple living on an alpaca farm with a store of their own. Owned and operated by Patti LaCroix and her husband, George, members of United Electric Cooperative (EC) headquartered in DuBois, Pa., LaCroix Alpaca is open to visitors by appointment.
Like the DiBonos, the LaCroixs invite visitors to feed their alpacas, feel their fiber and ask as many questions as they want. They also offer a variety of alpaca-fiber clothing and other alpaca-themed items from their store, La Petite Alpaca. But don't wait too long — their farm and their alpacas are for sale.
"My husband is 80 years old, and he'd like to live in a sunnier climate," LaCroix explains. "I'd like to have, ideally, a much smaller property; we have about 100 acres and we need no more than five to raise a few alpaca. ... I've been downsizing the herd, and now I only have six; I want to get it down to three."
Business venture
While more of a side gig, LaCroix still aims to stay in the alpaca business, hoping to combine it with a bed-and-breakfast concept and allow guests to help with some of the day-to-day tasks of rearing alpacas.
"You don't have to have one approach to the alpaca business," LaCroix says. "I've only had the shop for about three years, and I'm learning so much about business and creativity that I have not been exposed to before. You can craft it to suit your lifestyle, as long as you have a good business plan. Don't just dream it. Study it."
Alpacas caught LaCroix's eye because of their gentle nature and beautiful fleece, not to mention the ease with which one can rear them, but the desire to live on a farm — any farm — captivated her imagination long before that.
"Ever since I was a child, I was interested in living on a farm," LaCroix recalls. "I was the only person in my family interested in farming. I didn't have any knowledge of farming, but it was just a deep desire that I had."
Anyone wishing to visit LaCroix Alpaca can schedule an appointment by calling 814-938-9391 or using the contact form at lacroixalpacas.com. Interested buyers can also purchase products from La Petite Alpaca or inquire about alpacas for sale.
Alpaca farming makes up a small segment of a much larger aspect of rural Pennsylvania's economy: agricultural tourism. Agritourism covers a wide range of activities in the Commonwealth, including everything from visiting alpaca farms to patronizing craft breweries.
While the 2017 Census of Agriculture has not yet been released, an analysis of the 2012 Census of Agriculture revealed 727 Pennsylvania farms brought in an average of $35,389 in additional income annually thanks to agritourism activities, compared to just 303 farms reported in the 2002 census.
One such beneficiary of the agritourism industry is the Double Diamond Deer Ranch, owned and operated by United EC member Ethel "Rusty" Snyder, in Cooksburg, Pa. "The Deer Lady," as Snyder calls herself, and her husband, Roger "Shorty" Snyder, have 21 deer on the ranch, including possibly the oldest deer in Pennsylvania.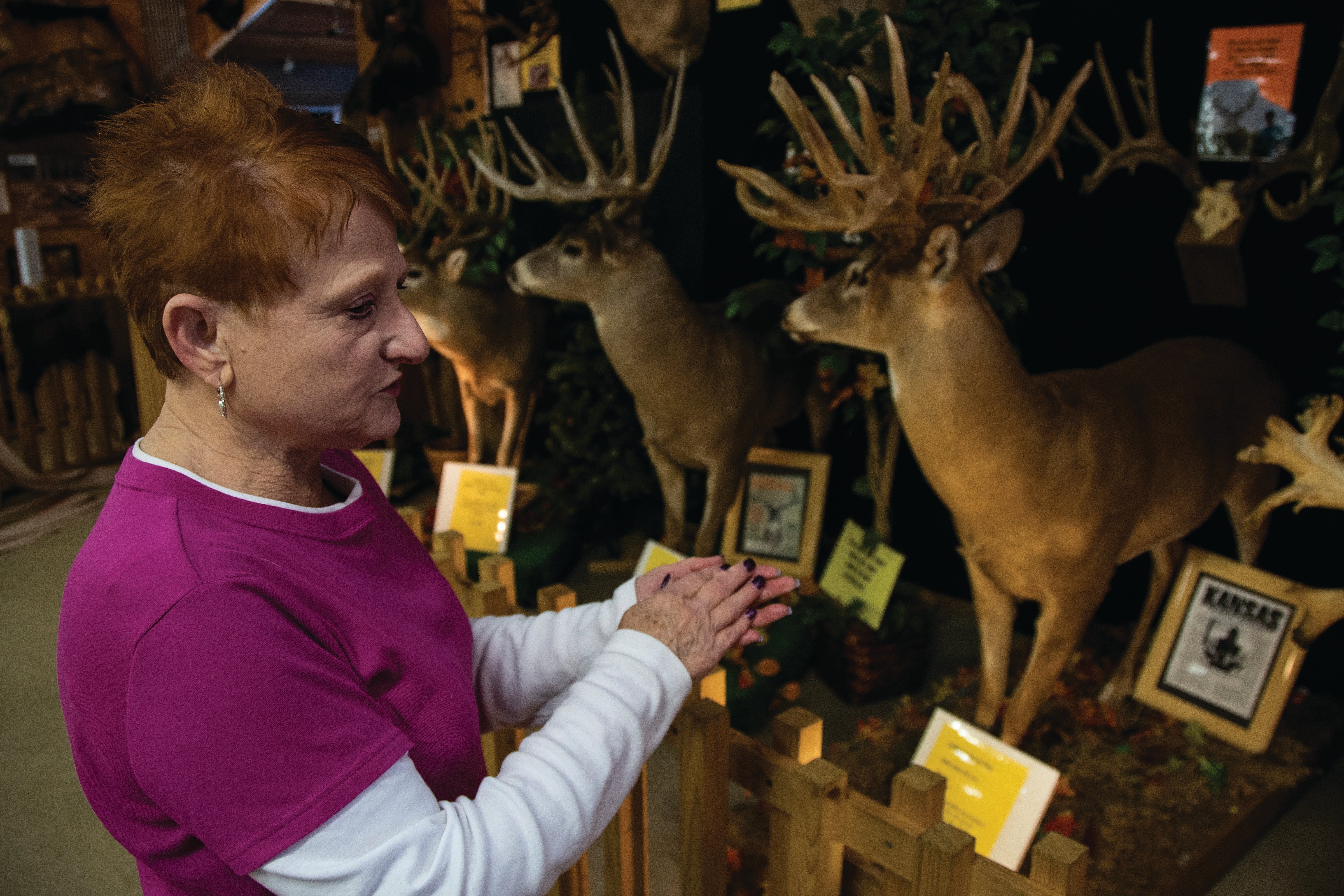 "Our oldest deer right now is a doe named Pebbles; she'll be 20 years old on June 6," Snyder says. "She's a piebald and a great-grandma. … As our senior citizens pass away, we have more babies to take their place."
Visitors often confuse Snyder's deer for albinos, but she assures everyone who stops by that they are white, whitetail deer.
"They're called a white, whitetail, and they have blue eyes," Snyder says. "We have white deer, brown deer and piebald deer, which are three-colored deer. Over the years, we've bought deer from all over Pennsylvania so we have different bloodlines. We always buy fawns — we never buy adult deer — and that way they get raised here."
Beyond the lively cast of deer at the Double Diamond Deer Ranch, the Snyders maintain an ever-changing, ever-growing lineup of extras to draw new faces. A collection of decommissioned emergency vehicles, a pet rattlesnake, a set of coin-operated rides and even an indoor, glow-in-the-dark golf course surround the main attraction, partly to keep people coming back, but also to dispel the idea it's a hunting park.
"A lot of people just drove by us for years because they thought it was someplace you came in to shoot the deer," Snyder says. "Kids love to pretend they're driving something and they love slides, so we have slides coming off of trucks. Some people just come here to ride the coin rides because no one has them anymore — and they're a quarter! We're always trying to think of things to make people happy."
Incidentally, the likelihood of deer being shot in Pennsylvania was the basis for the ranch. Curious to learn how long deer could live if they were not hunted so frequently, Snyder's husband, then-fiancé, and his cousin got the idea to set up a small deer farm.
"They went to the game commission, found out the rules and regulations —you have to have papers on your deer about parentage and that sort of thing —  and they bought three bucks from three different people and a couple of does," Snyder recalls. "So many people came to that farm … to visit the deer and put money in the mailbox as a contribution that they decided they could turn it into a business."
Turning animals into a business calls for a trip to the local game warden, who will guide anyone interested in setting up their own animal park through the permitting process. In general, the Pennsylvania Game Commission handles most regulations surrounding wild animals (such as deer) and the Department of Agriculture handles domesticated animals (such as alpacas), but how animals are displayed, what other animals they're kept with, and how the public will interact with them may dictate exceptions or overlaps to typical jurisdiction.
"The devil is in the details," explains Chad Eyler, chief of the special permit enforcement division for the Pennsylvania Game Commission. "It is highly regulated because the public needs to be safe, and the animals need to be safe and cared for as well. You may be inspected by a game warden one day and a veterinarian from the U.S. Department of Agriculture the next day. It's dependent upon the species that you're dealing with."
Wildlife education
Snyder and her husband have kept their operation almost entirely between themselves, having maybe one other person help on particularly busy weekends. That doesn't mean she isn't particularly busy if the ranch is calm. When she isn't tending to her deer or her guests, she's educating the community.
"I do seminars all year-round at different places — at schools, churches and hunting clubs — and they always bill me as 'Meet the deer lady,'" Snyder says. "Lots of guys have lots of questions about deer, and I think it's funny. They'll come and say, 'Oh, I wasn't expecting to enjoy this at all — some woman telling me about deer.' When I get done, they say to me, 'I learned more from you than all my years' experience of hunting in the woods,' so that makes me feel like it's been worthwhile."
The Double Diamond Deer Ranch opens on the weekends in May and then seven days a week after Memorial Day. The ranch returns to weekends only after Halloween and closes down at the end of November, right around the time deer shed their antlers. All-day admission — 10 a.m. until dusk — is $8, and children 4 years old and younger are free. Additional information can be found on their website, thedoublediamonddeerranch.com, their Facebook page or by calling
814-752-6334.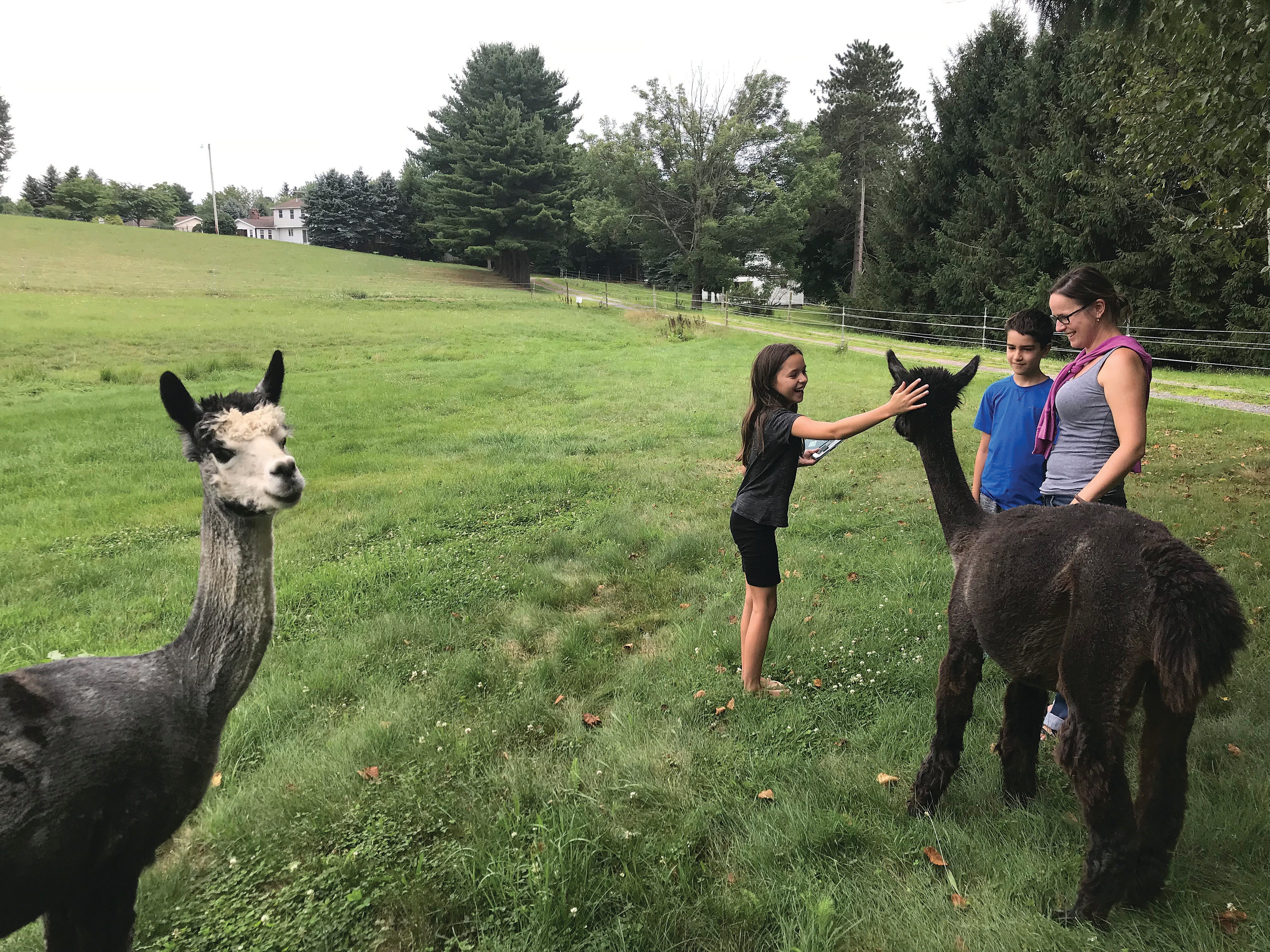 No matter the creature reared or the products sold, DiBono, LaCroix, and Snyder have all found their lives as animal caretakers, in one way or another, to be a dream come true. For Snyder, it was an opportunity to find a home.
"All my life, I always wanted to live up in this area because I always came camping up here as a kid," Snyder says. "We found where we are now. We had enough money for 24 acres, so that's what we bought, and we built everything here ourselves."
For LaCroix, it was an opportunity to find herself.
"Alpacas have been a doorway, an excuse to get to know people, to talk with them." LaCroix recalls. "I was so introverted, so afraid of challenges; but I found that the alpaca business has been worth the venture into the unknown. I've become much more willing to take reasonable risks, and I better understand the risks that I'm taking. Alpacas and the alpaca business have really helped me to feel so much more confident when I'm with people."
And for DiBono, it was an opportunity to find peace.
"I spent 30 years working in a warehouse — loading and unloading trucks … checking orders, punching a time clock and dealing with all the drama," DiBono says. "It's nice being out here with nature — a nice, peaceful existence. I'll go into town and people will say, 'You're always in such a good mood.' I'm retired, and I live with alpacas. What could be better than that?"