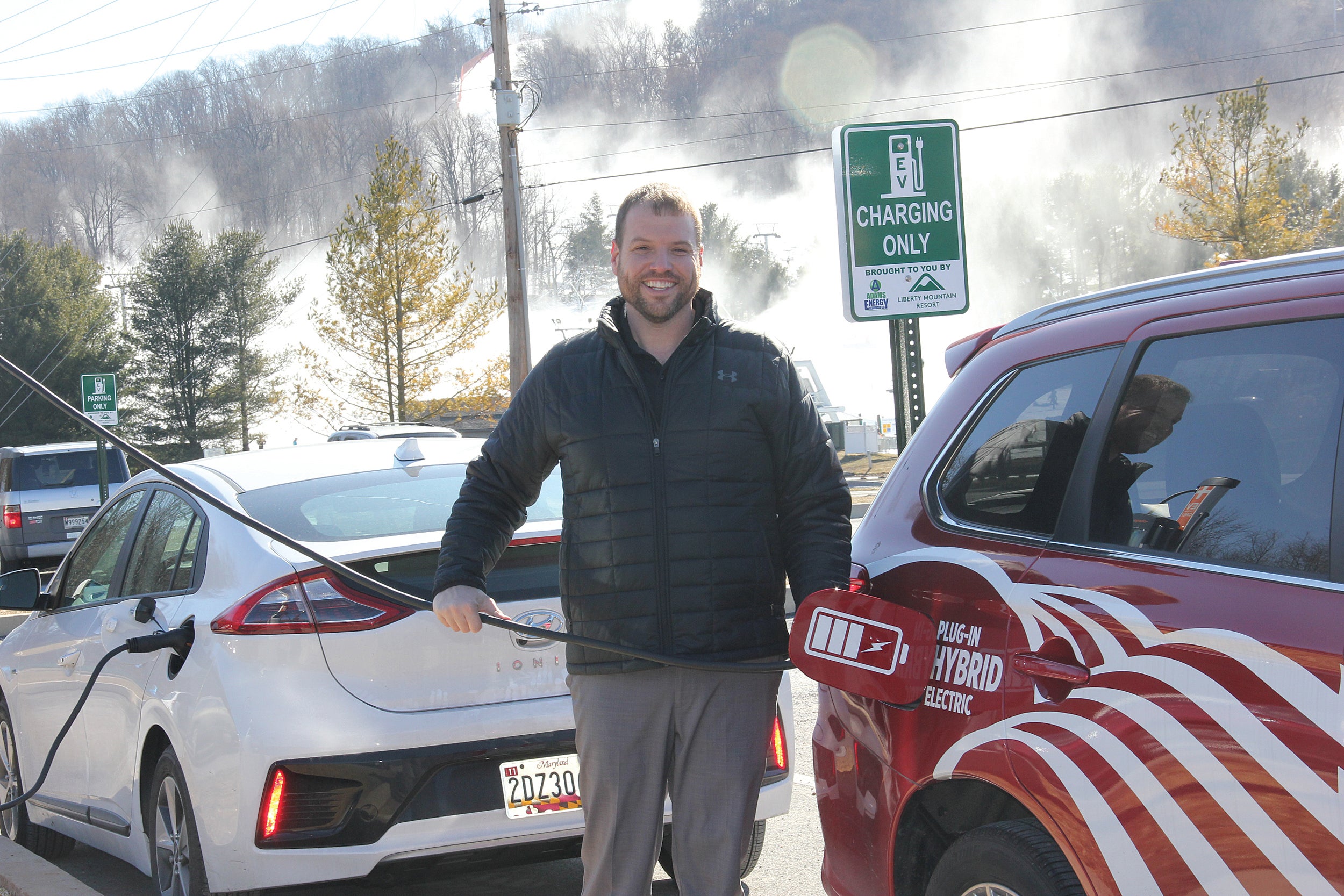 POWER UP: Mike Johnson, key accounts/senior safety specialist at Adams EC, plugs in a hybrid electric vehicle to a charging station operated by the cooperative's subsidiary, Adams Energy Resources, LLC. (Photo courtesy of Sarah Frank, Adams EC)
Positive power
Cooperatives explore beneficial electrification
By Michael T. Crawford
Associate Editor
Rural electric cooperatives — as the name implies — were formed to bring electricity to areas that existing utilities wouldn't touch because these profit-minded companies found little benefit in electrifying sparsely populated areas. Electrification became the tool cooperatives wielded to help rural Pennsylvanians improve the quality of their lives. Through a concept called beneficial electrification, cooperatives continue an innovative legacy of enriching their communities.
Isn't all electrification beneficial? That's a question fielded often by Keith Dennis, vice president of consumer-member engagement at the National Rural Electric Cooperative Association in Washington, D.C., and co-chair of the Beneficial Electrification League (BEL). Beneficial electrification uses electricity in lieu of end-use fossil fuels — such as oil, propane, coal, or natural gas — in appliances or equipment to support a more resilient grid, benefit the environment, improve product quality or quality of life, or save consumer-members money over time without hindering any of the other goals.
"Ten years ago, you wouldn't have a clear path to be pushing for electrification of end-use products," says Dennis, a founding member of BEL. "Today, when you have trends of falling emissions — you have more hydro, more nuclear and renewables together making clean energy — burning fossil fuels in millions and millions of homes and cars isn't the future."
If something runs on a fossil fuel, it's a potential candidate for beneficial electrification. Perhaps the flashiest example of end-use electrification is the rise of electric vehicles (EVs), which on average recharge for one-fourth the cost of refueling a traditional gasoline-operated vehicle.
Also in this issue
Lightbulb moment
"My opinion of EVs was that they were a fad," recalls Mike Johnson, key accounts/senior safety specialist at Gettysburg-based Adams Electric Cooperative (EC). "We sat through this New and Emerging Technologies Conference. … Different organizations all over the country presented on EVs and the benefits to electric utilities, the benefits to society, and the future of EVs. We recognized, sitting there, we were behind the eight ball."
Due to rising efficiencies of appliances, electric sales at utilities had been relatively flat for more than two decades. Ironically, Johnson realized if sales could be improved at the right time of day, it could benefit consumer-members.
"If we could pick up car chargers off our peak, we stood a better chance of maintaining a steady rate or possibly lowering the rates," Johnson explains. "We realized we had to do something. … With very little modification in their (members') daily routine, they could get their vehicles off of our peak. That would help us save on having to do system improvements and substation improvements and be able to prolong our existing system without having to do a bunch of advancements to be able to handle that additional load that is coming."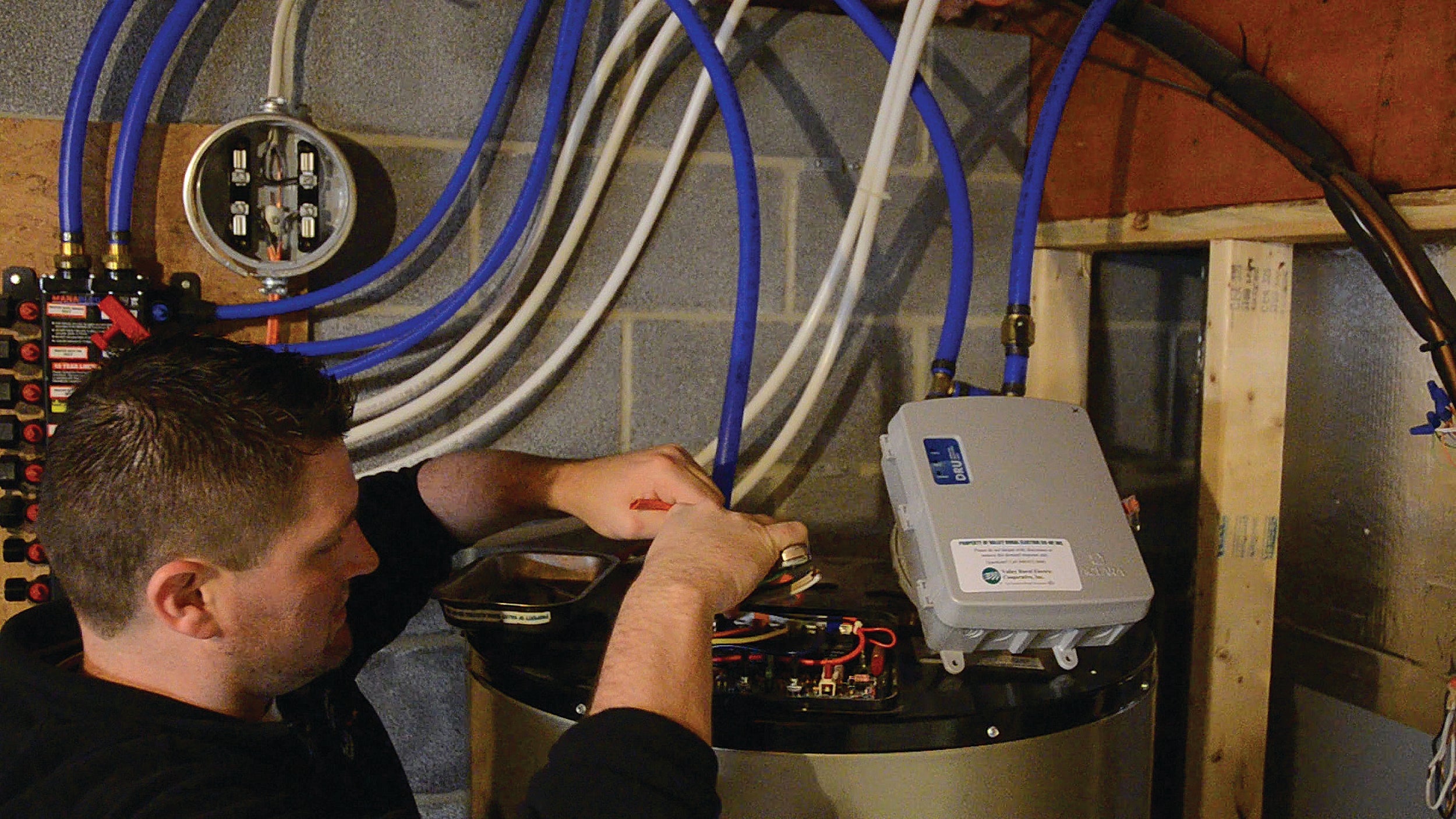 DEMAND RESPONSE: Travis Kuhstos, demand response program manager and staff energy specialist at Valley REC, connects a demand response unit to a consumer-member's water heater. (Photo courtesy of Lisa Carper, Valley REC)
Adams EC realized that to see EV adoption in its territory, more infrastructure was required, and began installing Level 2 commercial charging stations throughout its service territory via its subsidiary, Adams Energy Resources, LLC.
"It was going to be a benefit to our members and the co-op — they were going to be able to save on their fuel costs and we were hopefully going to be able to shift and add load in our off-peak times," Johnson says.
EVs aren't the be-all, end-all of beneficial electrification, of course. In fact, a simpler, quieter modification in most members' lives goes a long way toward achieving every goal of beneficial electrification: water heaters.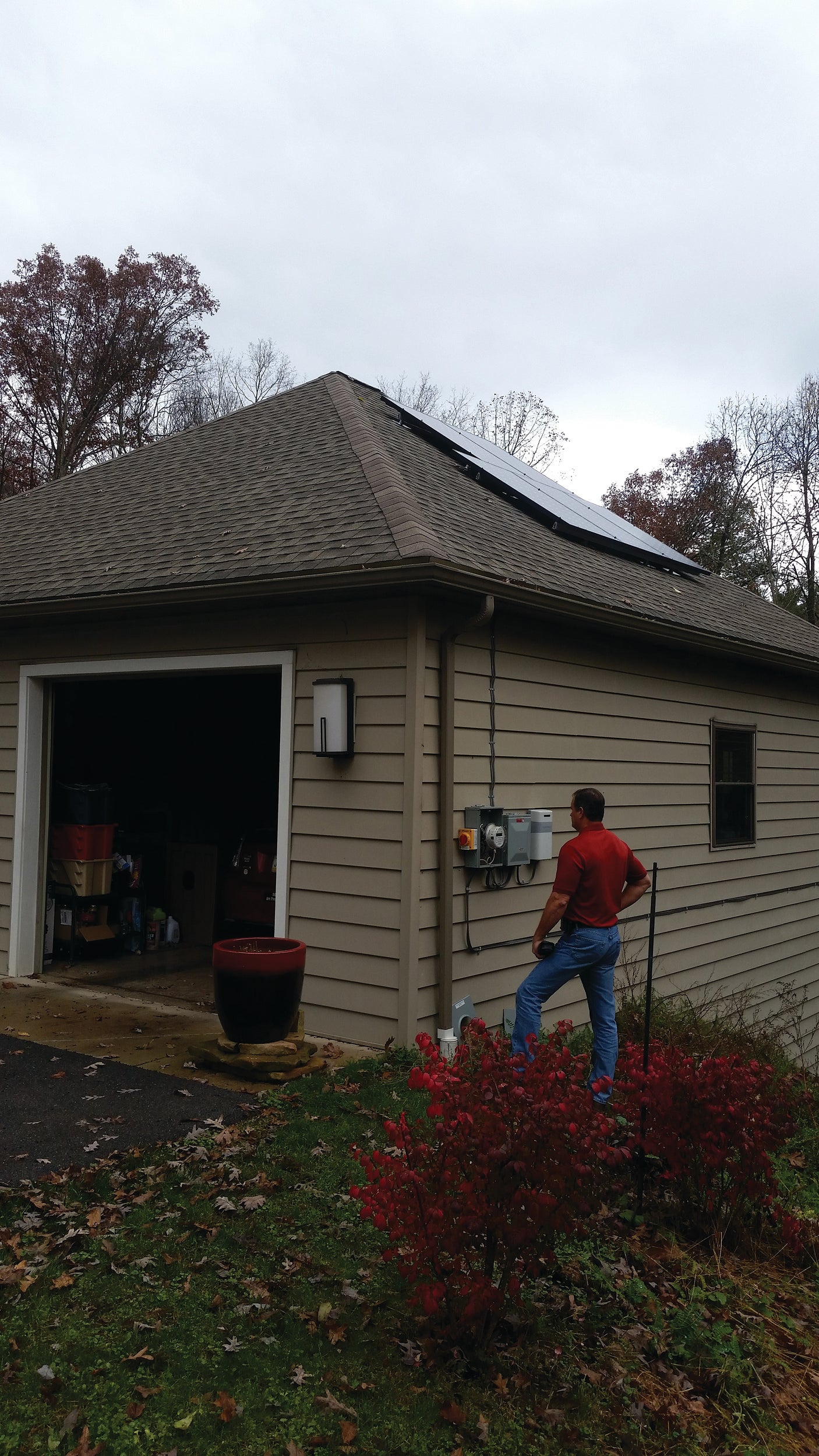 SOLAR POWER: Valley REC Vice President of Operations Todd Ross inspects the metering for a solar interconnection at a residence in Juniata Township, Huntingdon County, in 2017. The exposed meter on the left measures the net amount of electricity the rooftop solar array has fed into the co-op's distribution system while the covered meter in the center measures the total amount of electricity produced by the array, much of which is used by the household. (Photo courtesy of Lisa Carper, Valley REC)
Multiple Benefits
"Most people don't think about it until you don't have hot water or there's a puddle on the floor," quips Steve Koep, general manager of BEL. "But electric water heating is cleaner, it's more manageable, it's safer and it's healthier. It's not only good for the member, it's good for the co-op. It's good for the climate, and it's good for the grid."
Electric water heaters are generally easy to maintain without specialized technical skills and avoid the risk of backdraft, which can result in carbon monoxide leaks, explains Travis Kuhstos, demand response program manager and staff energy specialist at Huntingdon-based Valley Rural Electric Cooperative (REC). They are also more efficient, meaning every watt of electricity going into an electric water heater is doing what it's meant to do, as opposed to oil or gas where energy is lost.
"I tell members they're consolidating their bills — they're paying one bill a month covering everything — and in our area, electric is still the cheapest 'fuel' source," notes Kuhstos, a member of Valley REC. "People are getting away from the fossil fuel stuff — I've done the same myself — because it's cleaner. An oil system, for example, could backfire and put soot through the house. … It's almost weekly where I get a phone call about somebody replacing a 30-, 40- or even 50-year-old water heater."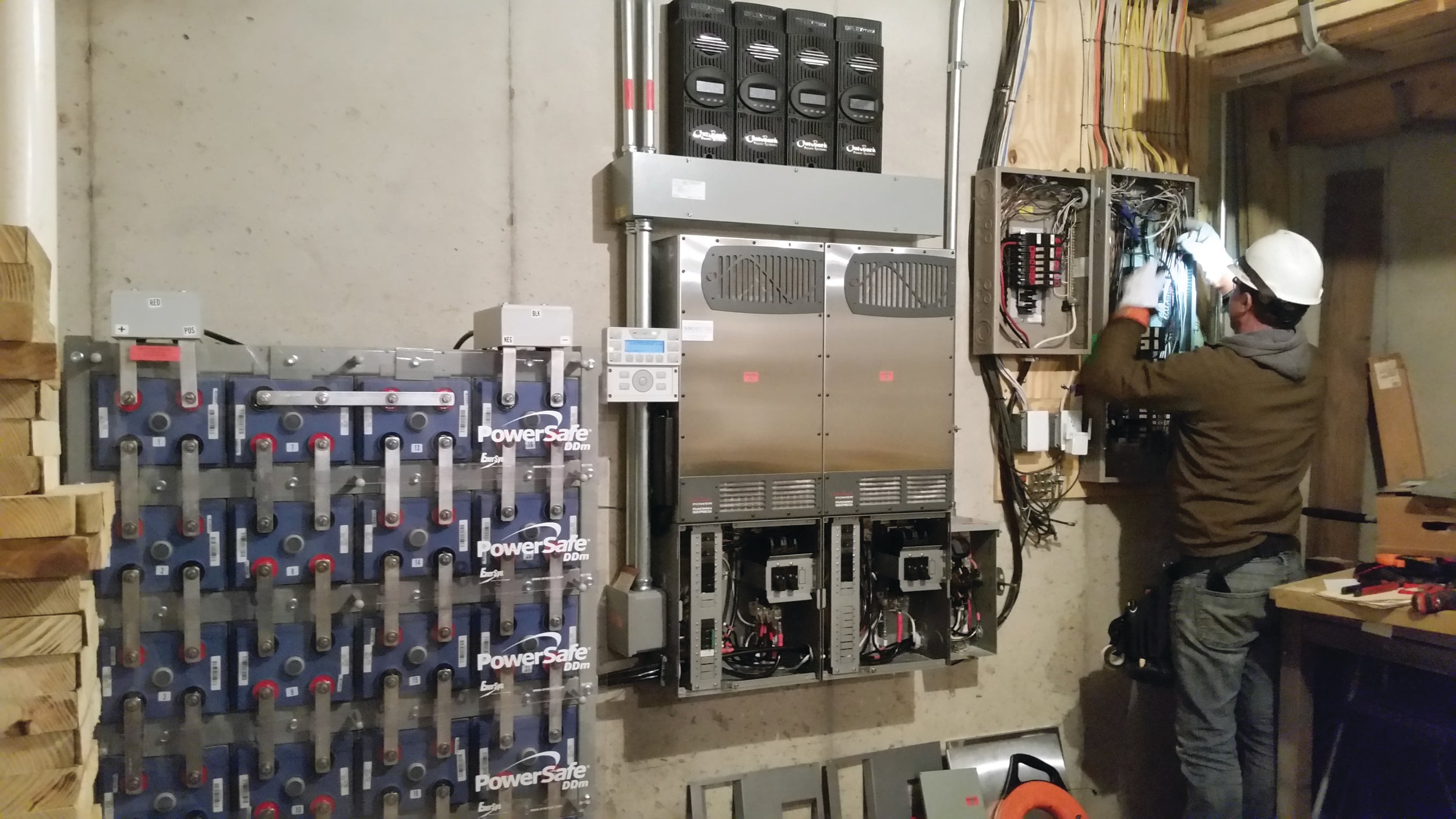 INTERCONNECTED: A technician finishes installation of a battery system for a 12-kilowatt solar array at the home of a Valley REC member. Valley REC has 45 member solar interconnections on its system. (Photo courtesy of Lisa Carper, Valley REC)
He adds, "Water heaters have really come a long way. The energy (efficiency) factors for water heaters even 10 years ago are so much different than they are today."
The concept of beneficial electrification, which ultimately plugs more systems into the grid, reverses historic approaches to reducing environmental impacts or even reducing energy costs. These approaches often encouraged homeowners to simply use less electricity.
Increasing demand for electricity, even with efficient technology, puts additional strain on the energy grid, which can lead to having to repair or replace components more frequently, according to Tony Vincik, manager of energy management systems at Harrisburg-based Allegheny Electric Cooperative, Inc. (Allegheny).
"Substations and power lines have limits to what can be run through them, and high demand can put transformers at their limit," Vincik explains. "Sitting at maximum capacity on a hot summer day can damage the equipment over time, but if you can slow the load down, the equipment will last longer."
Also in this issue
Tradition of efficiency
For more than 30 years, Pennsylvania electric cooperatives, in partnership with Allegheny — the wholesale power provider for 14 electric cooperatives in Pennsylvania and New Jersey —  have been carefully managing energy demand to minimize the impact of peaks.
The Coordinated Load Management System (CLMS), devised by Allegheny in 1986, has avoided more than $150 million in power costs since its inception by spreading out the use of electricity to off-peak times, such as at night when most people are asleep or in the middle of the day while most people are away from home.
If that concept sounds familiar, it's because that's exactly how your cooperative utilizes water heaters to reduce peak load. Through a demand response unit, cooperatives can remotely switch off water heaters when demand for electricity is at its highest to keep costs down. Because modern water heaters are so well insulated, the water stored inside remains heated long enough for demand to decrease and the heater to be switched back on.
Some cooperatives, including Sullivan County REC, based in Forksville, Pa., offer a similar beneficial electrification concept for home heating — electric thermal heating — that allows for heat to persist even if the system is off.
"It's a system that uses a couple of different mediums, brick or water," explains Tom Eberlin, a member of Sullivan County REC and the cooperative's technical services representative. "They look like an old-fashioned register that water would flow through with ceramic bricks with heating elements that run through them. The bricks absorb the heat, and when the power is off, the bricks hold the heat so it can keep the room warm. With a properly designed system, it will keep your home warm during the longest control periods. We don't shut them off for that long, but they'll have enough stored heat in them so there is no chance of not having heat from avoiding the peak."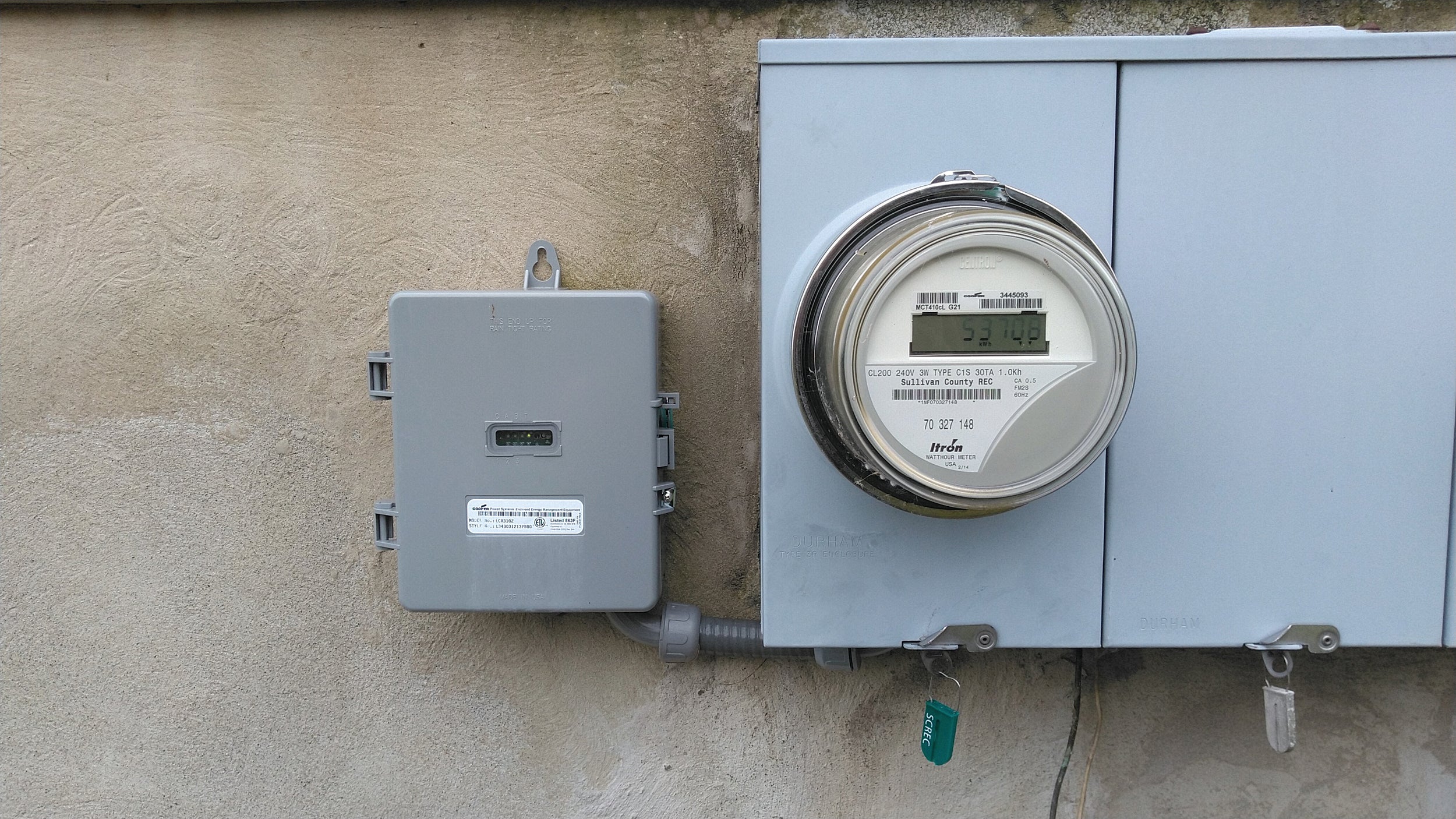 HEATER METER: An electric meter attached to the home of a Sullivan County REC member monitors energy use of an electric thermal storage system. (Photo courtesy of Jeff Spako, Sullivan County REC)
He adds, "It's a great system the way it heats the home, and it is a money saver for the rates and time off the peak. The benefit to the cooperative is it reduces the load during that peak time. It's not just a benefit to our cooperative, but all the cooperatives."
While not beneficial electrification in and of itself, CLMS enables the concept by helping cooperatives rely more on their own clean energy. In 2019, through Allegheny, cooperative consumer-members received nearly 59% of their energy from the Susquehanna Steam Electric Station (SSES), a two-reactor nuclear plant in Berwick, Pa., and nearly 10% from hydropower via the Raystown Hydroelectric Project and hydroelectric projects located along the Niagara and St. Lawrence rivers in upstate New York. In addition to these large-scale resources, nearly 600 member-owned renewable energy sources — primarily wind and solar energy — contribute to Allegheny's clean energy portfolio.
The more electric cooperatives rely on their own energy portfolio, the less Allegheny has to purchase from the energy market, which typically consists of more than 60% fossil fuels. Clean energy drives beneficial electrification as much as technological efficiencies.
"As the grid gets greener, everything attached to the grid gets greener right along with it," Koep says. "It can be a big motivating factor for folks with the energy choices that they make in terms of the water heating, space heating and ultimately their next vehicle."
Times change and with it applications of technology and electricity, but a cooperative's concern for community — its duty to benefit its consumer-members — remains steady.