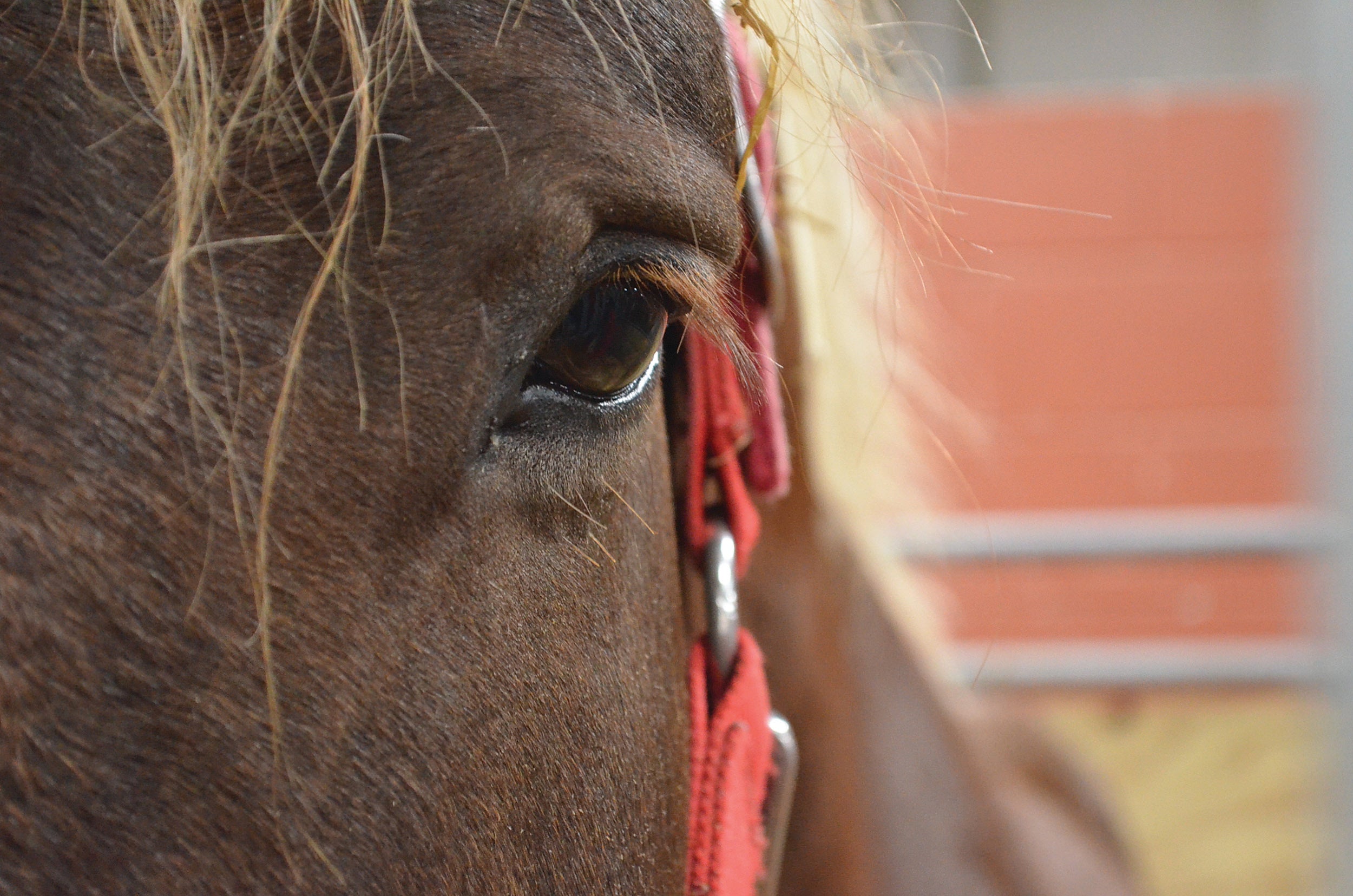 GENTLE GIANT: A horse waits in its stall at the 2020 Pennsylvania Farm Show. Numerous equine events are part of the annual show held each January in Harrisburg, Pa. (Photo courtesy of the Pennsylvania Farm Show)
Helpful horses
Exploring the multiple benefits of Pennsylvania's equine industry
By Michael T. Crawford
Associate Editor
Horses have been part of human civilization for as long as we can remember — if not longer — and while they usually aren't our first choice for pulling a plow these days, Pennsylvanians and their economy still benefit from horsepower.
Horses come in all shapes, sizes and uses. Those uses contribute $50 billion to the U.S. economy and $3.3 billion to Pennsylvania's economy annually, according to the American Horse Council Foundation's 2017 National Equine Economic Impact Study. The top five uses — from a dollars-and-cents perspective — are recreational, pulling in $1.01 billion annually; competitive, $870 million; endurance, $860 million; therapy, $15 million; and rescue, $2 million.
"That's direct and indirect economic impact, which would include things like land management and transportation — tractors and horse trailers — and insurance, for examples," explains Skip Seifert, director of the Pennsylvania Equine Council. "The direct impacts would be veterinarians, farriers and trainers — those hands-on types of roles. Using myself as an example … we use an equine dentist. There are some people who use chiropractors or massage therapists, almost the same as you'd do for a human."
Hands-on
Kaysha Hockenberry, a certified equine massage therapist and member of Indiana-based REA Energy Cooperative, has been treating horses for five years, collaborating with a chiropractor just as a massage therapist would when treating a human.
"It goes hand in hand," Hockenberry explains. "If the muscles are tight and they're pulling on the bone, a chiropractor is going to have to come out and adjust the bones, whereas if I can get the muscles loosened and relaxed, they're not going to pull the bones out of alignment. Likewise, if the bones are in (the proper) place, it makes the massage go a lot easier."
Like with people, the reason for a massage — and the kind of massage — depends on the horse. While Hockenberry sees a lot of racing horses or trail horses in need of deep tissue work, horse owners come to her seeking light, relaxation massages for their stressed horses.
"It just really depends on what the horse likes," she says. "Just like with a person going to get a massage … it helps reduce any inflammation or muscle strain. Horses hold a lot of stress that they can't release like a human would. … The poll between the ears holds a lot of tension that gives headaches … and if that is sore or tight, it puts a lot of tension on the rest of the body."
Much like a veterinarian or any other job working with horses, Hockenberry has learned to interpret horses' cues to determine the best course of treatment.
"I'll hit a couple pressure points throughout the body to see what is sore," she says. "A good indicator to see if a horse doesn't like it — or they are sore there — is they'll pin their ears back or they'll turn around and try to bite or kick you."
She adds, "Whenever they do decide to relax and let you work on that area, their ears will go forward. I like to pay attention to their eyes, their face — they'll say a lot."
Many with horses in their life often remark on the human-like qualities they see in their four-legged friends, noting personalities as distinct and varied as humans. While Seifert doesn't personally assign them human-like qualities, different horses' personalities, he says, are better suited for different aspects of the equine industry.
"You will see more quarter horses and draft horses in the recreational side, the therapeutic side and the rescue side," Seifert notes. "They're what we call 'cold blooded' — quiet demeanors, not affected by the environment. They're not easily spooked or scared by things. They're more laid back than some of the hotter-blooded horses, like thoroughbreds. You wouldn't want to take a horse off the race track and put him in a therapeutic program."
The recreational sector includes trail riders and pleasure riders — basically riding for its own sake, not for competition, therapy, work, or rescue. 

PLEASURE RIDING: Skip Seifert, director of the Pennsylvania Equine Council, stops to admire the Susquehannock State Forest while taking a ride on his quarter horse, Chic – also known by her registered name, She's Hanginon Dreams. (Photo courtesy of Aleta Seifert)
Long tradition
Dean Brant, a member of Somerset Rural Electric Cooperative (REC) and owner of Willshire Farms in Rockwood, Pa., has been raising Percheron draft horses — a French breed brought to the United States in the early 19th century — to sell and ride for 20 years. His family's connection to the breed, however, goes back generations.
"I'm actually the eighth generation of Brants to be farmers here in Somerset County," Brant says. "My dad and grandfather farmed with Percherons up until 1950. Before that, my grandfather and his father — clear back into the 1800s — they always kept Percherons on the farm. … But, after World War II, everyone started dumping their horses for trucks and tractors. If it wasn't for the Amish keeping the bloodline alive, they might have dropped off entirely."
Today, Brant, who sells the colts born on the farm, usually keeps between 15 and 20 horses on the farm at any given time. Visitors may come by appointment to pet and feed any of his horses.
"On the farm, we have a sled and give wagon rides," he says. "We give rides at festivals. Year-round, we have the horses used for something."
Appointments to visit the Willshire Farm, as well as wedding or funeral services, can be scheduled with Brant or his wife by calling 814-443-4134.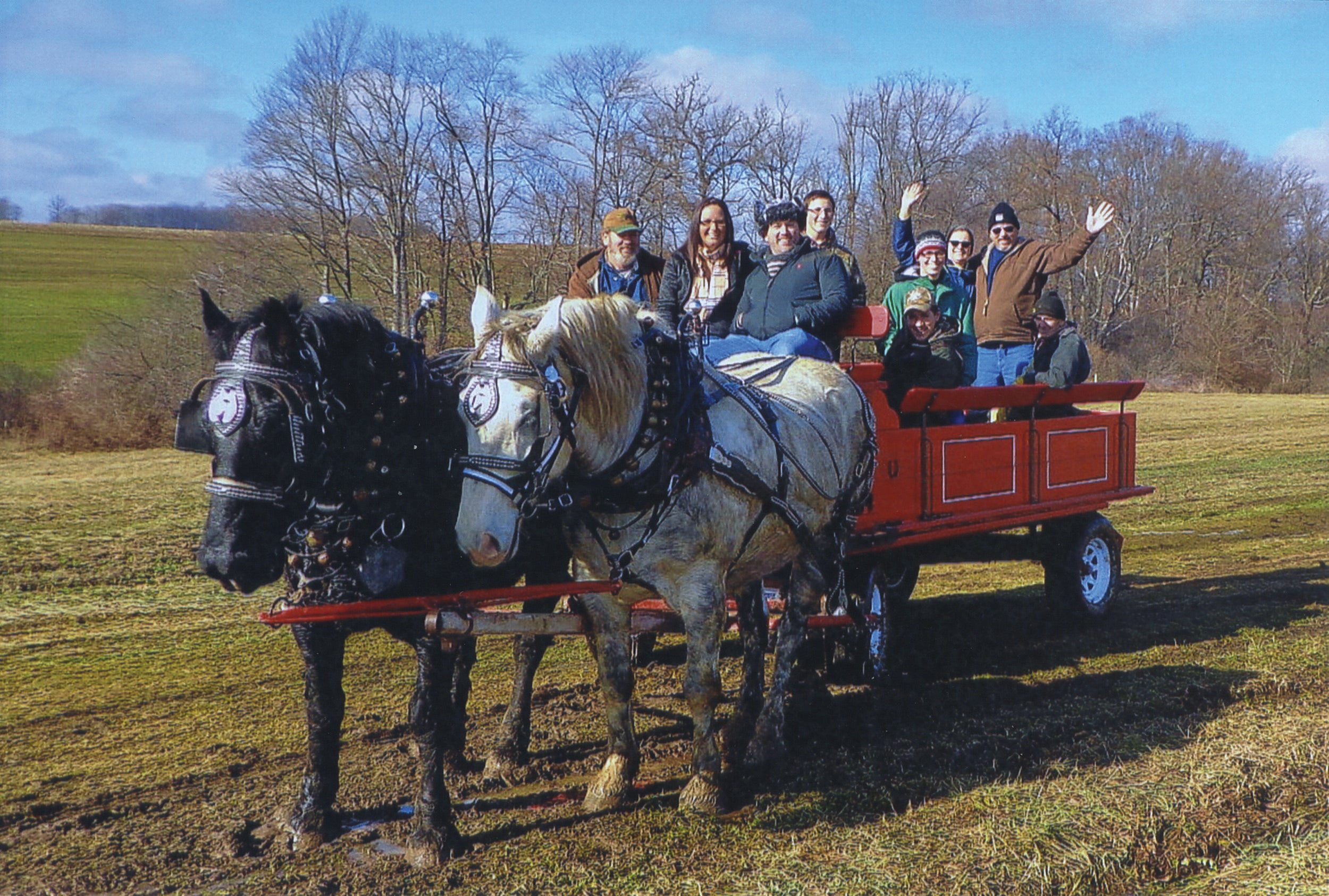 WAGON RIDE: Horses Joe, left, and Mark take friends and family of Dean Brant for their annual Christmas wagon ride on Brant's farm in Rockwood, Pa. (Photo courtesy of Dean Brant)
Often described as intelligent animals by their owners, horses display that intelligence at shows — the primary driver of the competitive sector — where horses captivate audiences with jumps, tricks and other performances. And sometimes, in the case of miniature horses, hyper-precise grooming.
"They have to be totally body clipped," explains Debbie Sample, owner of Sample's Majestic Miniatures and member of Cambridge Springs-based Northwestern REC. "With a quarter horse or any other stock horse, you just clip up their bridle path and around their hooves so they look nice, but with a miniature, it requires between five and 10 different blades depending on how you clip them. It's an art form."
Sample, whose husband, Mike Sample, serves on the board of directors for Northwestern REC, has been breeding and raising miniatures since 2007, when she switched from quarter horses.
"I thought my children would enjoy it more — they were slightly intimidated by my quarter horses," Sample recalls. "My daughter ended up showing horses with me — we went all over. Some people have compared it to showing dogs — which I've done in the past — but (showing miniatures) is like showing regular horses."
Sample left shows behind when her daughter grew out of it, but her miniature horses still go on to win competitions across the country. For her, though, it isn't about the prestige or the money.
"I'm not saying I haven't sold any for decent money, but that's never the goal," Sample says. "I'm only interested in whatever I produce having a very good home, and it doesn't get bounced around a lot."
Horse family
Jean Hovan, a member of Wysox-based Claverack REC, seeks a different kind of competition. Despite the name, the competitive sector excludes racing; that falls within the endurance sector. For nearly 20 years now, Hovan has raised paint stock horses to compete in barrel races.

EQUINE MASSAGE: Kaysha Hockenberry, an equine massage therapist and member of Indiana-based REA Energy Cooperative, gives a massage to a barrel racing horse with strained shoulder and pectoral muscles in Dayton, Pa. (Photo courtesy of Kaysha Hockenberry)
"It's just the most enjoyable sport I've ever done," Hovan explains. "You race against the clock and everybody races on the same pattern, one at a time. We have three barrels set up in a cloverleaf fashion and you race around them without knocking any over. … The last show I was at had $5,000 added money, and the winner took home close to $1,000."
Hovan, 65, has been barrel racing since she was 14, but never tracked the money she made.
"It just wasn't that important to me," Hovan says. "Our 'horse family' — all the other contestants — we cheer each other on. It's the greatest family in the whole world."
The first horse she ever rode was a paint horse — those with white and dark spotting patterns — and so when she had the chance to breed and raise her own, she chomped at the bit.

SHOWMANSHIP: Carlee Hunsicker rides a horse from Bee Tree Trail LLC of Berks County in the Adult English Riding Class at the 2020 Pennsylvania Farm Show. (Photo courtesy of the Pennsylvania Farm Show)
"I've loved horses ever since I knew what one was when I was a couple of years old," Hovan says. "I came full circle with them — I had a mare and I wanted to breed her to a specific stallion. … A friend came to me and said there was a son of the stallion in Oklahoma. … The mare (Howie Nightmare, 29) and stallion (M.H. Primetime, 25) that I started out with in 2000 are still here with me."
The equine industry has, like many industries, hit a wall in recent months. COVID-19, the global pandemic that required quarantine measures to slow its spread, had completely shut down the equine industry in the Commonwealth.
"They've had to cancel a lot of races right up until this last couple weeks," Hovan says. "Nothing has been happening, either in New York or Pennsylvania."
Across the board, those tied to the horse industry have felt the effects of the stay-at-home orders.
"It definitely put a clamp on me horsing around with other people," Brant says. "I had things scheduled and with the virus basically no one comes around. We had to cancel everything for a couple of months."

CUTE CHAMPION: Inspiration, a miniature horse bred by Sample's Majestic Miniatures, stands trimmed and ready to show. Miniature horses from Debbie and Mike Sample's farm near Corry, Pa., have won horse shows nationwide. Inspiration is about 29 inches tall. (Photo courtesy of Kelly Roe)
Human connection
But, as many horse owners can attest, there's more to a horse than just the money it can make. Beyond carrying a sizable chunk of the Commonwealth's economy on their backs, horses have shown to be able to bear the weight of humans' personal struggles. According to the Professional Association of Therapeutic Horsemanship, working with horses can have significant physical, mental, and emotional impacts on people with a wide variety of disabilities and health issues, such as autism, traumatic brain injuries, or cerebral palsy, to name a few.
In Shippensburg, Pa., Reins of Rhythm Riding and Horsemanship Program, seeks to bring the benefits of horse therapy to children.
Patience Groomes, program founder and executive director, first realized the benefits of horse therapy by accident when she was babysitting a 5-year-old foster child as a teenager.
"She was very sullen, and would refuse to talk to anybody," recalls Groomes, who founded Reins of Rhythm in 2009 after achieving three separate equine degrees related to therapeutic riding. "When she was with the horses, she always had a smile. She was happy, she was willing to follow directions, and that was something that we saw transfer over … to other places in life as well. And that's something we see every day with our youth in the program."

BARRELING DOWN: Jean Hovan, a member of Wysox-based Claverack REC, rounds a turn during a barrel race on her paint horse. (Photo courtesy of Jean Hovan)
Reins of Rhythm, sponsored by Gettysburg-based Adams Electric Cooperative (EC) through the program's Adopt a Horse fundraiser, offers therapeutic activities for families and special-needs learners, as well as regular riding lessons.
"We have sponsored other activities for the organization in the past, but it's our first time as 'adopted parents,'" notes Kami Noel, communications and member relations coordinator for Adams EC. "We're a silver sponsor; we get letters from the kids, pictures of the horse, Malibu, and can attend activities if we would want to."
The volunteer-run program has 13 horses, a full-time trainer and roughly 50 participants every year, welcoming children ages 4-18. The program reaches hundreds more children each year through summer camps, field trips and other events throughout the year. Those interested in volunteering, participating or attending events can check for information at the Reins of Rhythm website, reinsofrhythm.org.
As stay-at-home restrictions slowly lift, those who work with horses almost unanimously agree they will bounce back.
"Two weeks ago, the Keystone Horse Center in Bloomsburg got into the yellow phase and we had a big barrel race there — almost 350 entries," Hovan notes. "Last year, at the same venue, we were right around 200."
After all, horses hold more than a profitable niche in the Commonwealth's economy — they hold a special place in the hearts of Pennsylvanians.