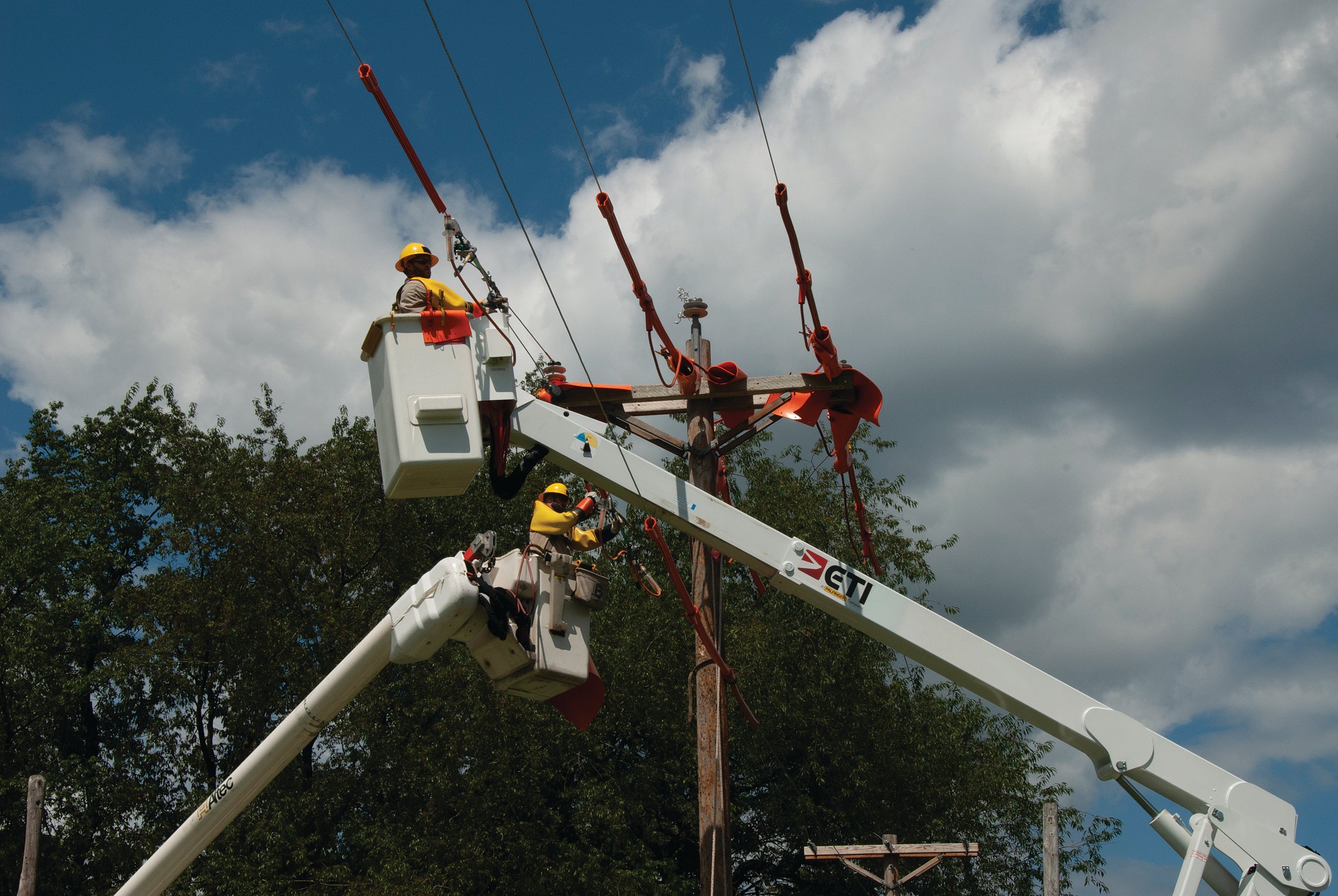 HANDLE WITH CARE: Lineworkers cover power lines with rubber mats to avoid electrical contact before practicing equipment change-outs during a JT&S Advanced Rubber Glove School at REA Energy Cooperative in Indiana, Pa.
On the line
New campaign encourages cooperative commitment to safety
By Michael T. Crawford
Associate Editor
There is no doubt electric lineworkers have a tough job — harsh weather, long hours and slim margin for error make for a dangerous profession. But dangerous work can still be accomplished safely, and each cooperative throughout the Commonwealth has invested in programs and procedures to foster a culture of safety.
Due to the risk inherently present in line work, most lineworkers go through apprenticeship programs that emphasize the necessary safety fundamentals, explains Dave Daugherty, safety and rights-of-way manager at Indiana-based REA Energy Cooperative. Most continue on to formal school training before entering the workforce, which provides a solid foundation of safe work practices. This allows cooperative safety and operation supervisors to focus on the potential No. 1 threat to safety: shortcuts.
"Our brains will instinctively take shortcuts — if you can save time doing it another way and it works, our brains will say 'Take the shortcut,'" Daugherty notes. "We're instructing our employees to fight instinct — stop and focus to avoid shortcuts that can result in negative outcomes to employees and the cooperative."
Grim data
Overcoming complacency has become a concern in cooperatives across the nation. There's hard — and grim — data to back up cooperative concerns. According to the Occupational Safety and Health Administration (OSHA), 5,147 workers were killed on the job in 2017 — about 14 a day — with electrocution being the third-leading cause of death. Looking at its own data, Federated Rural Electric Insurance Exchange (Federated), the insurance provider for electric cooperatives nationwide, noticed a startling trend — the number of fatalities from electrocution was staying the same even as the number of claims was dropping.
"At Federated, we were seeing a nearly constant number of serious injuries and fatalities, staying around 23 to 24 a year," explains Jason Springs, Federated safety and loss prevention consultant. "In this business, one accident is too many, but we just weren't seeing the improvement we had hoped for, even though we were bringing down the total number of claims. We talk about it every meeting we go to — we actively participate in cooperative safety meetings, we do annual observation visits with each co-op and we also attend conferences. We never pass up an opportunity to talk about it."
In 2018, the continued fatalities prompted the cooperative insurer to launch a far-reaching safety campaign — Commitment to Zero Contacts — to double down on reinforcing basic safety protocols. The issue, as far as safety advocates could see, isn't a lack of knowledge or distaste for regulation — it's a fight against instinct.
"Whenever you take a shortcut, it becomes easier to take it again, and it becomes easier to get hurt," explains Shane Farrell, operations manager for DuBois-based United Electric Cooperative (EC). "We fight that with our safety meetings — restating our safe practices and making sure everyone knows what they're supposed to be doing."

CAREFUL INSPECTION: Joe Selnekovic, PREA/Allegheny manager, JT&S/environmental adviser, inspects a bucket truck at New Enterprise REC during an unannounced RESAP inspection in 2019.
Indefinite commitment
Springs stresses that the key to overcoming the instinct to take a shortcut is replacing it with a new one. Rather than be a once-and-done campaign, the goal of the commitment is, well, just that — an indefinite commitment to safety.
"If the only time we're talking about safety is at safety meetings, we're not talking about it enough," Springs says. "We found that the more you talk about it, the more you discuss it, the more second nature it becomes to the linemen, so we wanted to raise their awareness and make sure they all understand the pitfalls of what they're doing and what they can do to make it better."
Federated's Commitment to Zero Contacts safety campaign calls on cooperatives to sign a pledge to improve — and talk about — safety to prevent contacts with energized equipment. In return, Federated offers ideas and resources to help cooperatives eliminate serious injuries.
"Federated has emphasized the use of a qualified observer, an electrically qualified employee that is a second set of eyes for a lineworker conducting energized work," Daugherty explains. "We've communicated this practice to our employees and have included it in our Safe Work Practices revision. Federated, as they were sifting through all this data from electrical contacts, found that after an incident, when crews were asked what happened, most would say, 'I don't know. I didn't see it.'"
He adds, "Now, with a qualified observer notifying a coworker to put on their personal protective equipment — rubber gloves and sleeves — before approaching the minimum approach distance of an energized line or equipment and to add another piece of rubber cover-up to prevent their coworker — their friend — from suffering a serious injury, or even death, is what it is all about."

SAFETY CHECK: Shane Farrell, operations manager for United EC, left, and Jeff Young, safety & loss prevention consultant for Federated, right, discuss work procedures during an unannounced crew observation in 2019 as United EC lineworkers set a pole to provide electricity to a new member's home.
Tough talk
Even with dedicated safety personnel on a job site, cooperative safety leaders emphasize the need for lineworkers to speak up when they see something that doesn't look — or even feel — right.
"Through our Speak Up, Listen Up program, even if you've only been here one day, we want you to speak up when you see something wrong, something unsafe," Farrell says. "We're going to stop the job and talk about it. We use the S.A.F.E. (Stop and Focus Everyday) app that Federated developed, and that helps walk our crew chiefs through a detailed job briefing to help address potential hazards on the job site."
He adds, "We have to keep on it, keep with the message and talking about it so we keep making sure they all go home safe."
To help support each cooperative's own safety policies, the Pennsylvania Rural Electric Association's (PREA) Job Training & Safety (JT&S) Program exists to share the latest industry knowledge and resources. The program offers training classes year-round to electric cooperatives across the state, ranging from schools on climbing and operating winches to changing transformers and stringing new power lines. Lineworkers and crew chiefs assist the program by offering their services as instructors, and, in most cases, JT&S schools take place at cooperative training yards.
"We built a training yard behind our office building to help host JT&S schools," Farrell says. "PREA does an outstanding job of providing beneficial training for apprentices, journeymen, all the way to guys who have been doing this for 30 years, and Brenda (Swartzlander, CEO for United EC) really wanted to show the cooperative's commitment to the JT&S program."

UNDERSTANDING ELECTRICITY: Dave Allison, a meter technician for Bedford REC, examines wiring in a simulation box for a meter replacement exercise during the JT&S Metering School held in 2019 at Somerset REC.
Working together
The program, Farrell notes, brings together cooperative lineworkers and engineers from across the Commonwealth, giving them the chance to work together before meeting on a job site when a storm disrupts power.
The JT&S program also supports cooperatives' participation in the Rural Electric Safety Achievement Program (RESAP), an initiative designed by the National Rural Electric Cooperative Association (NRECA) to re-enforce cooperatives' own safety policies.
"All the CEOs feel it's their responsibility to participate in RESAP," says Jeff Dishong, operations supervisor for REA Energy Cooperative. "It's all in an effort to get a handle on complacency. You do the same job day in, day out, and … something you may have grown accustomed to could be slipping by. It's just an effort to make sure everyone goes home the same way they came to work."
RESAP adds a layer of safety and accountability on top of cooperatives' in-house crew observations. Operations supervisors from electric cooperatives across the state enlist the aid of the JT&S crew to conduct unannounced crew visits and workspace inspections at the request of each cooperative's CEO.
"Onsite inspections are done every three years," says Doug Nichols, director of operations for Wysox-based Claverack Rural Electric Cooperative (REC). "We know the year we're up (for inspection), but we don't know when they're going to come, which I think is a very good thing because it keeps you in the mindset of 'You always have to be prepared.' It should be just another day at the office."
Above and beyond
RESAP takes safety beyond what is dictated by regulations and make suggestions on how to improve safety. For cooperative inspectors, the visits provide a chance to learn new and different ways to maintain safe working environments.
"There are some regulations involved, and each co-op goes above and beyond regulations," Dishong says. "We do more of pointing out things co-ops excel in than we do finding faults. I may see something here that I can take back to my own co-op … and that's another reason for everybody being involved. Every co-op you go to, there's always something you can learn and always something you can share — it's cooperation among co-ops."
After completing a RESAP observation, inspectors upload their findings to NRECA, compiling data to show where a cooperative stands in comparison to cooperatives across the state and the nation, as well as comparing the cooperative to those of similar size and membership. Inspectors pass along these numbers to cooperative CEOs along with comments and recommendations.
"It definitely gives us a reset button every three years of things that we need to look at," says New Enterprise REC General Manager/CEO Mark Morrison. "Everybody needs to work safely — you can't get complacent — so I think it's a really good program. We use it as an educational tool to make things better."
Local leadership on the national level
Co-op director chairs national insurance group with a commitment to safety
Local leadership is the cornerstone of the electric cooperative model. Cooperatives are led by members of the local community — directors who are elected by their fellow members and neighbors. These leaders, armed with local insight and a commitment to service, can bring great value to organizations far and wide.
Tim Burkett is the vice chairman of both the DuBois-based United Electric Cooperative Board of Directors and the Pennsylvania Rural Electric Association Board of Directors. He also serves as the board chairman of Federated Rural Electric Insurance Exchange (Federated), the insurance provider for electric cooperatives nationwide. Burkett, who owns and operates a machine shop — R & S Machine in Porter, Pa. — spoke with us about his interest in fostering a culture of safety at electric cooperatives across the state and the nation.
Penn Lines: How does your service on the board of Federated help support cooperative safety efforts?
Tim Burkett: I like to think of Federated as a safety company that also provides insurance. The safety of lineworkers, and the members who depend on them, is every cooperative's chief concern, and Federated is, in fact, a cooperative. And we support our members by helping them identify areas for improvement and sharing best practices from around the nation. It's not enough to just tell lineworkers, "Wear your gloves and your hard hat." Safety has to be part of the workplace's culture.
P. L.: What does it mean to have a "culture of safety?"
T. B.: It's easy to work on the big things — everybody knows you're supposed to wear personal protective equipment — but a culture of safety means viewing the smaller details as equally important. If you go to a co-op — or any business, for that matter — and their workspace is neat and organized and regulations are posted in plain sight, you can tell that they are paying attention to the little things that keep everyone vigilant. Chances are if you're following up on the little things, the big things fall into place.
P. L.: What steps has Federated taken to encourage a culture of safety at its member cooperatives?
T. B.: In April 2018, Federated, along with the National Rural Electric Cooperative Association, introduced the Commitment to Zero Contacts initiative to provide ideas and resources to help eliminate serious injuries and fatalities due to electrical contact. In the first year, more than 540 cooperative CEOs signed the pledge to commit to zero contacts, and that number has been growing ever since.
P. L.: What more can cooperatives do to build upon their own cultures of safety?
T. B.: Electric cooperatives have high standards for safety that exceed Occupational Safety and Health Administration regulations, and most fatalities can be prevented simply by taking the time to review those basic safety protocols that are already in place. Last year, we launched the S.A.F.E. — Stop and Focus Everyday — app in an effort to eliminate shortcuts and missed steps, and conduct more effective job planning. It makes you slow down, have discussions and consider possible near misses.
P. L.: What is a "near miss?" Why do we want to identify those?
T. B.: A near miss is a potential hazard or incident that has not resulted in any personal injury, but these can help identify working conditions, work habits, or use of equipment that could present a danger to employees. In any workspace in any industry, we get accustomed to our environment and can overlook a hazard because we don't see it as one. Sharing near-miss reports on one side of the state can help another make a change that could save a life.

Tim Burkett